Vascular Biology and Medicine
Our research investigates the fundamental mechanisms involved in vascular and myocardial homeostasis and inflammation. We aim to develop new treatments and diagnostics for cardiovascular diseases including coronary heart disease, heart failure, cardiovascular ageing, and microvascular disease.
There is important unmet medical need for an interdisciplinary study of cardiovascular diseases mechanisms, effective identification of therapeutic targets, novel therapeutic regimens, and the development of novel diagnostics and methods of vascular assessment.
Our expertise spans from basic science to clinical medicine. Our strategy is to build bridges among the Newcastle University Institutes and local NHS Trusts. We collaborate with major stakeholders (biotech and pharmaceutical industries) and develop strategies to address major vascular health problems.
Research impact
Our research shows that amyloid-beta levels may be a key indicator of cardiovascular disease. We aim to develop a simple blood test to identify most at-risk patients so that preventative measures can be put in place and death rates reduced.
Our team has explored the formation of senescent cells, also known as zombie cells, in a preclinical model. These cells are damaged and can cause neighbouring cells to become senescent. We have uncovered their formation and identified possible reversal mechanisms to revitalise the heart after a heart attack.
We are investigating exercise capacity in patients with implanted left ventricular assist devices. While the output of blood from the heart improves pressure builds up in the lungs. The pump does not respond to the demands of exercise in the same way as a normal heart.
We have partnered with Kancera AB and secured £1.7M to run the FRACTAL clinical trial. This will test if Kand567, a new drug which blocks Fractalkine, can be used to treat patients after acute myocardial infarction.
We have shown that endoglin is essential for cardiovascular development and maintenance of the adult vasculature. Endoglin is regulated during angiogenesis, and its depletion leads to arteriovenous malformations.
Cardiovascular Immunology
Research topics include:
RNA metabolism and vascular inflammation
T-cell biology in ischemia/reperfusion injury in acute myocardial infarction
Key References
Gladka M, Stellos K.
Scientists on the Spot: RNA modifications in atherosclerosis.
Cardiovascular Research (2021) DOI: 10.1093/cvr/cvaa338
Spray L, Park C, Cormack S, Mohammad A, Panahi P, Boag S, Bennaceur K, Sopova K, Richardson GD, Stangl V, Rech L, Rainer PP, Ramos GC, Hofmann U, Stellos K, Spyridopoulos I.
The fractalkine receptor CX3CR1 links lymphocyte kinetics in CMV-seropositive patients and acute myocardial infarction with adverse left ventricular remodeling.
Frontiers in Immunology (2021) DOI: 10.3389/fimmu.2021.605857
Vlachogiannis NI, Gatsiou A, Silvestris DA, Stamatelopoulos K, Tektonidou MG, Gallo A, Sfikakis PP, Stellos K.
Increased adenosine-to-inosine RNA editing in rheumatoid arthritis.
Journal of Autoimmunity (2020) DOI: 10.1016/j.jaut.2019.102329
Coelho-Lima J, Mohammed A, Cormack S, Jones S, Ali A, Panahi P, Barter M, Bagnall A, Ali S, Young D, Spyridopoulos I.
Kinetics Analysis of Circulating MicroRNAs Unveils Markers of Failed Myocardial Reperfusion.
Clinical Chemistry (2019) DOI: 10.1373/clinchem.2019.308353
Leisegang MS, Fork C, Josipovic I, Richter FM, Preussner J, Hu J, Miller MJ, Epah J, Hofmann P, Günther S, Moll F, Valasarajan C, Heidler J, Ponomareva Y, Freiman TM, Maegdefessel L, Plate KH, Mittelbronn M, Uchida S, Künne C, Stellos K, Schermuly RT, Weissmann N, Devraj K, Wittig I, Boon RA, Dimmeler S, Pullamsetti SS, Looso M, Miller FJ Jr, Brandes RP.
Long Noncoding RNA MANTIS Facilitates Endothelial Angiogenic Function.
Circulation (2017) DOI: 10.1161/CIRCULATIONAHA.116.026991
Stellos K, Gatsiou A, Stamatelopoulos K, Perisic Matic L, John D, Lunella FF, Jaé N, Rossbach O, Amrhein C, Sigala F, Boon RA, Fürtig B, Manavski Y, You X, Uchida S, Keller T, Boeckel JN, Franco-Cereceda A, Maegdefessel L, Chen W, Schwalbe H, Bindereif A, Eriksson P, Hedin U, Zeiher AM, Dimmeler S.
Adenosine-to-inosine RNA editing controls cathepsin S expression in atherosclerosis by enabling HuR-mediated post-transcriptional regulation.
Nature Medicine (2016) DOI 10.1038/nm.4172
Spyridopoulos I, Martin-Ruiz C, Hilkens C, Yadegarfar ME, Isaacs J, Jagger C, Kirkwood T, von Zglinicki T.
CMV seropositivity and T-cell senescence predict increased cardiovascular mortality in octogenarians: results from the Newcastle 85+ study.
Aging Cell (2016) DOI: 10.1111/acel.12430
Boag SE, Das R, Shmeleva EV, Bagnall A, Egred M, Howard N, Bennaceur K, Zaman A, Keavney B, Spyridopoulos I. T lymphocytes and fractalkine contribute to myocardial ischemia/reperfusion injury in patients.
The Journal of Clinical Investigation (2015) DOI: 10.1172/JCI80055
Cardiovascular Ageing
Research topics include:
amyloid-beta in cardiovascular ageing and disease
senescence in cardiovascular inflammation and ageing
telomere length shortening and telomerase biology
Key references
Lambrinoudaki I, Delialis D, Georgiopoulos G, Tual-Chalot S, Vlachogiannis NI, Patras R, Aivalioti E, Armeni E, Augoulea A, Tsoltos N, Soureti A, Stellos K, Stamatelopoulos K.
Circulating Amyloid Beta 1-40 Is Associated with Increased Rate of Progression of Atherosclerosis in Menopause: A Prospective Cohort Study.
Thrombosis and Haemostasis (2021) DOI 10.1055/s-0040-1721144
Tektonidou MG, Kravvariti E, Vlachogiannis NI, Georgiopoulos G, Mantzou A, Sfikakis PP, Stellos K, Stamatelopoulos K.
Clinical value of amyloid-beta1-40 as a marker of thrombo-inflammation in antiphospholipid syndrome. Rheumatology (Oxford) (2021) DOI 10.1093/rheumatology/keaa548
Stakos DA, Stamatelopoulos K, Bampatsias D, Sachse M, Zormpas E, Vlachogiannis NI, Tual-Chalot S, Stellos K.
The Alzheimer's Disease Amyloid-Beta Hypothesis in Cardiovascular Aging and Disease: JACC Focus Seminar.
Journal of the American College of Cardiology (2020) DOI 10.1016/j.jacc.2019.12.033
Anderson R, Lagnado A, Maggiorani D, Walaszczyk A, Dookun E, Chapman J, Birch J, Salmonowicz H, Ogrodnik M, Jurk D, Proctor C, Correia-Melo C, Victorelli S, Fielder E, Berlinguer-Palmini R, Owens A, Greaves LC, Kolsky KL, Parini A, Douin-Echinard V, LeBrasseur NK, Arthur HM, Tual-Chalot S, Schafer MJ, Roos CM, Miller JD, Robertson N, Mann J, Adams PD, Tchkonia T, Kirkland JL, Mialet-Perez J, Richardson GD, Passos JF.
Length-independent telomere damage drives post-mitotic cardiomyocyte senescence.
EMBO (2019) DOI: 10.15252/embj.2018100492
Stamatelopoulos K, Mueller-Hennessen M, Georgiopoulos G, Sachse M, Boeddinghaus J, Sopova K, Gatsiou A, Amrhein C, Biener M, Vafaie M, Athanasouli F, Stakos D, Pateras K, Twerenbold R, Badertscher P, Nestelberger T, Dimmeler S, Katus HA, Zeiher AM, Mueller C, Giannitsis E, Stellos K.
Amyloid-β (1-40) and Mortality in Patients With Non-ST-Segment Elevation Acute Coronary Syndrome: A Cohort Study. Annals of Internal Medicine (2018) DOI 10.7326/M17-1540
Stamatelopoulos K, Pol CJ, Ayers C, Georgiopoulos G, Gatsiou A, Brilakis ES, Khera A, Drosatos K, de Lemos J, Stellos K.
Amyloid-beta (1-40) peptide and subclinical cardiovascular disease in the general population: the Dallas Heart Study.
Journal of the American College of Cardiology (2018) DOI: 10.1016/j.jacc.2018.06.027
Heart Failure
Research topics include:
diagnostics and pharmacotherapy
myocardial recovery in patients with left ventricular assist devices
ischemia/reperfusion injury in heart transplantation
Key references
Wang L, MacGowan GA, Ali S, Dark J.
Ex situ heart perfusion: The past, the present, and the future.
The Journal of Heart and Lung Transplantation (2021) DOI 10.1016/j.healun.2020.10.004
Rushton S, Parameshwar J, Lim S, Dar O, Callan P, Al-Attar N, Tsui S, MacGowan GA.
The introduction of a super-urgent heart allocation scheme in the UK: a two-year review.
The Journal of Heart and Lung Transplantation (2020) DOI: 10.1016/j.healun.2020.06.013
Okwose N, O'brien N, Charman S, Cassidy S, Brodie D, Bailey K, MacGowan GA, Jakovljevic DG, Avery L. Overcoming barriers to engagement and adherence to a home-based physical activity intervention for patients with heart failure: a qualitative focus group study.
BMJ Open (2020) DOI 10.1136/bmjopen-2019-036382
Walaszczyk A, Dookun E, Redgrave R, Tual-Chalot S, Victorelli S, Spyridopoulos I, Owens A, Arthur HM, Passos JF, Richardson GD.
Pharmacological clearance of senescent cells improves survival and recovery in aged mice following acute myocardial infarction.
Aging Cell (2019) DOI 10.1111/acel.12945
Jakovljevic DG, Yacoub MH, Schueler S, MacGowan AG, Velicki L, Seferovic PM, Hothi S, Tzeng BT, Brodie DA, Birks EJ, Tan LB.
Left Ventricular Assist Device as a Bridge to Recovery for Patients with Advanced Heart Failure.
Journal of the American College of Cardiology (2017) DOI 10.1016/j.jacc.2017.02.018
Cardiovascular Therapeutics
Research topics include:
drug discovery and preclinical testing of new therapeutic compounds
clinical trials on patients with cardiovascular disease
development of new surgical interventions
Key references
Maier R, Bawamia B, Bennaceur K, Dunn S, Marsay L, Amoah R, Kasim A, Filby A, Austin D, Hancock H, Spyridopoulos I.
Telomerase Activation to Reverse Immunosenescence in Elderly Patients With Acute Coronary Syndrome: Protocol for a Randomised Pilot Trial.
JMIR Research Protocols (2020) DOI 10.2196/19456
Cormack S, Mohammed A, Panahi P, Das R, Steel AJ, Chadwick T, Bryant A, Egred M, Stellos K, Spyridopoulos I, Capri I.
Effect of ciclosporin on safety, lymphocyte kinetics and left ventricular remodelling in acute myocardial infarction.
British Journal of Clinical Pharmacology (2020) DOI 10.1111/bcp.14252
Dookun E, Walaszczyk A, Redgrave R, Palmowski P, Tual‐Chalot S, Suwana A, Chapman J, Jirkovsky E, Donastorg Sosa L, Gill E, Yausep O, Santin Y, Mialet‐Perez J, Owens WA, Grieve D, Spyridopoulos I, Taggart M, Arthur HM, Passos JF, Richardson GD.
Clearance of senescent cells during cardiac ischemia–reperfusion injury improves recovery.
Aging Cell (2020) DOI: 10.1111/acel.13249
Zaman A, de Winter R, Kogame N, Chang C, Modolo R, Spitzer E, Tonino P, Hofma S, Zurakowski A, Smits C, Prokopczuk J, Moreno R, Choudhury A, Petrov I, Cequier A, Kukreja N, Hoye A, Iniguez A, Ungi I, Serra A, Gil R, Walsh S, Tonev G, Mathur A, Merkely B, Colombo A, Ijsselmuiden S, Soliman O, Kaul U, Onuma Y, Serruys P.
Safety and efficacy of a sirolimus-eluting coronary stent with ultra-thin strut for treatment of atherosclerotic lesions (TALENT): a prospective multicentre randomised controlled trial.
Lancet (2019) DOI 10.1016/S0140-6736(18)32467-X
Windecker S, Latib A, Kedhi E, Kirtane AJ, Kandzari DE, Mehran R, Price MJ, Abizaid A, Simon DI, Worthley SG, Zaman A, Hudec M, Poliacikova P, Abdul Ghapar AKB, Selvaraj K, Petrov I, Mylotte D, Pinar E, Moreno R, Fabbiocchi F, Pasupati S, Kim HS, Aminian A, Tie C, Wlodarczak A, Hur SH, Marx SO, Jankovic I, Brar S, Bousquette L, Liu M, Stone GW; ONYX ONE Investigators.
Polymer-based or polymer-free stents in patients at high bleeding risk: ONYX ONE.
The New England Journal of Medicine (2019) DOI: 10.1056/NEJMoa1910021
Laina A, Gatsiou A, Georgiopoulos G, Stamatelopoulos K, Stellos K.
RNA Therapeutics in Cardiovascular Precision Medicine.
Frontiers in Physiology (2018) DOI: 10.3389/fphys.2018.00953
Aortic and Vascular Disease
Research topics include:
characterize the vascular involvement in amyloidosis and multiple myeloma
understand the mechanism leading to and treatments for aortic aneurysm
study the role of blood vessel, development, formation, and angiogenesis in cardiovascular disease
understand the genetics underlying congenital heart defects
develop novel cardiovascular and microvascular assessment and treatment technologies
understand the causes of vascular dementia and depression in late life
Key references
Allen J, Liu H, Iqbal S, Zheng D, Stansby, G.
Deep learning-based photoplethysmography classification for peripheral arterial disease detection: a proof-of-concept study.
Physiological Measurement (2021) DOI: 10.1088/1361-6579/abf9f3
Kastritis E, Laina A, Georgiopoulos G, Gavriatopoulou M, Papanagnou ED, Eleutherakis-Papaiakovou E, Fotiou D, Kanellias N, Dialoupi I, Makris N, Manios E, Migkou M, Roussou M, Kotsopoulou M, Stellos K, Terpos E, Trougakos IP, Stamatelopoulos K, Dimopoulos MA.
Carfilzomib-induced endothelial dysfunction, recovery of proteasome activity, and prediction of cardiovascular complications: a prospective study.
Leukemia (2021) DOI: 10.1038/s41375-021-01141-4
Tual-Chalot S, Garcia-Collado M, Redgrave RE, Singh E, Davison B, Park C, Lin H, Luli S, Jin Y, Wang Y, Lawrie A, Jakobsson L, Arthur HM.
Loss of Endothelial Endoglin Promotes High-Output Heart Failure Through Peripheral Arteriovenous Shunting Driven by VEGF Signalling.
Circulation Research (2020) DOI: 10.1161/CIRCRESAHA.119.315974
Allen J, O'Sullivan J, Stansby G, Murray A.
Age-related changes in pulse risetime measured by multi-site photoplethysmography.
Physiological Measurement (2020) DOI 10.1088/1361-6579/ab9b67
Nandhra S, Scott E, Boyan L, Williams R, McCaslin J.
The interplay between Preoperative anaemia and post-operative blood transfusion on survival following fenestrated aortic aneurysm repair.
Annals of Vascular Surgery (2020) DOI: 10.1016/j.avsg.2020.06.040
Stamatelopoulos K, Georgiopoulos GA, Athanasouli F, Nikolaou PE, Lykka M, Roussou M, Gavriatopoulou M, Laina A, Trakada G, Charakida M, Delialis D, Petropoulos I, Pamboukas C, Manios E, Karakitsou M, Papamichael C, Gatsiou A, Lambrinoudaki IV, Terpos E, Stellos K, Andreadou I, Dimopoulos MA, Kastritis E.
Reactive Vasodilation Predicts Mortality in Primary Systemic Light Chain (AL) Amyloidosis.
Circulation Research (2019) DOI: 10.1161/CIRCRESAHA.119.314862
Phillips HM, Stothard CA, Shaikh Qureshi WM, Kousa AI, BrionesLeon JA, Khasawneh RR, Sanders R, O'Loughlin C, Mazzotta S, Dodds R, Seidel K, Bates T, Nakatomi M, Cockell SJ, Schneider JE, Mohun TJ, Maehr R, Kist R, Peters H, Bamforth SD.
Pax9 is required for cardiovascular development and interacts with Tbx1 in the pharyngeal endoderm to control 4th pharyngeal arch artery morphogenesis.
Development (2019) DOI: 10.1242/dev.177618
Bano A, Gan Addison C, Narayanan K, Weaver J, Tsatlidis V, Razvi S.
Age May Influence the Impact of TRAbs on Thyroid Function and Relapse-Risk in Patients with Graves Disease.
The Journal of Clinical Endocrinology & Metabolism (2018) DOI: 10.1210/jc.2018-01738
Collaborative Research
understanding biological and environmental factors regulating normal heart and blood vessel development and function and examining their impact on lifecourse and healthcourse trajectories
understanding how changes in regeneration and stem cell activity contributes to cardiovascular disease
Key references
Oldershaw R, Owens WA, Sutherland R, Linney M, Liddle R, Magana L, Lash GE, Gill J, Richardson GD, Meeson A, Human cardiac mesenchymal stem cell-like cells, a novel cell population with therapeutic potential.
Stem Cells and Development (2019) DOI: 10.1089/scd.2018.0170
Palmowski P, Watson R, Europe-Finner GN, Karolczak-Bayatti M, Porter A, Treumann A, Taggart MJ.
The Generation of a Comprehensive Spectral Library for the Analysis of the Guinea Pig Proteome by SWATH-MS.
Proteomics (2019) DOI 10.1002/pmic.201900156
Baruch N, Burgess J, Pillai M, Allan CL.
Treatment for depression comorbid with dementia.
Evidence-based Mental Health (2019) DOI 10.1136/ebmental-2019-300113
Nicholson CJ, Sweeney M, Robson SC, Taggart MJ.
Estrogenic vascular effects are diminished by chronological aging.
Scientific Reports (2017) DOI 10.1038/s41598-017-12153-5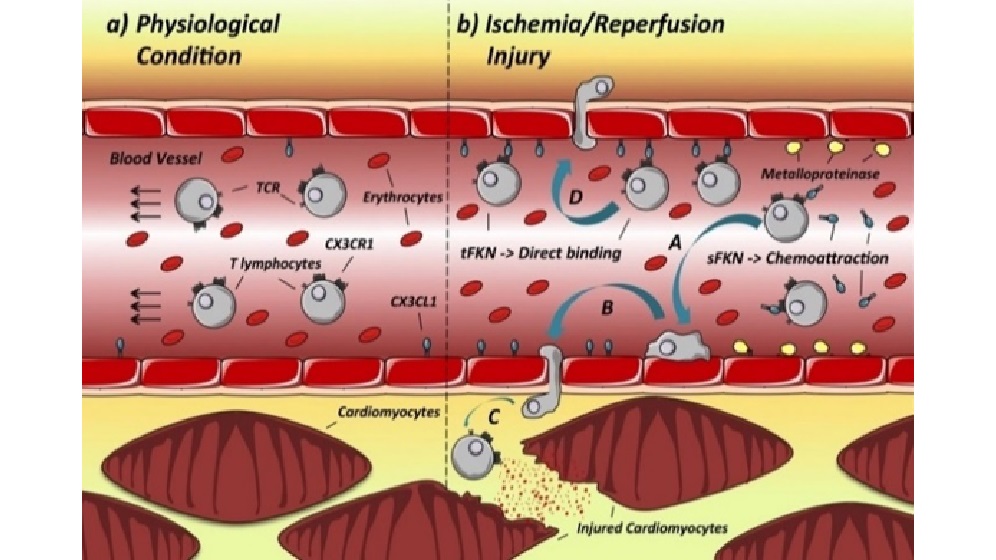 Immune cells contribute to injury after myocardial infarction.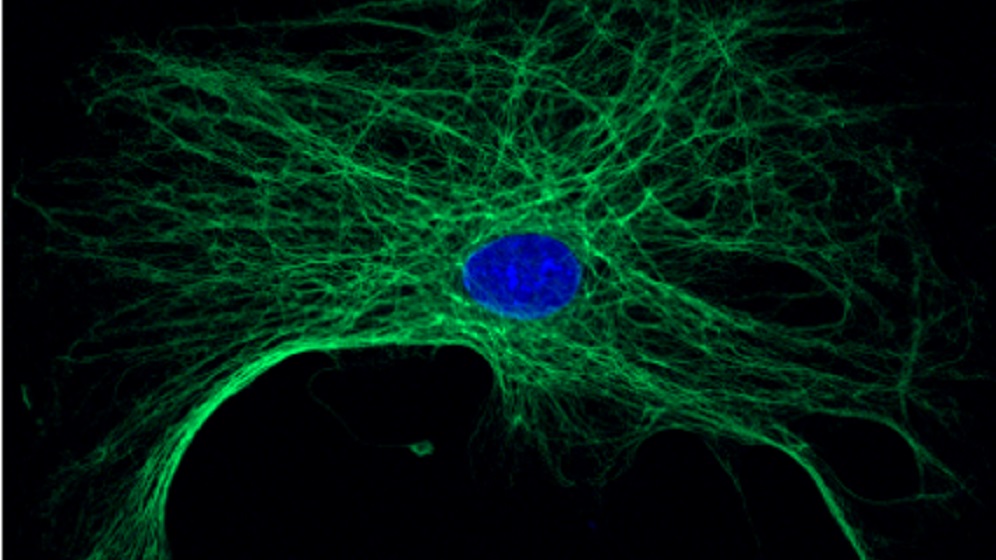 Cultured senescence cell used for drug screening.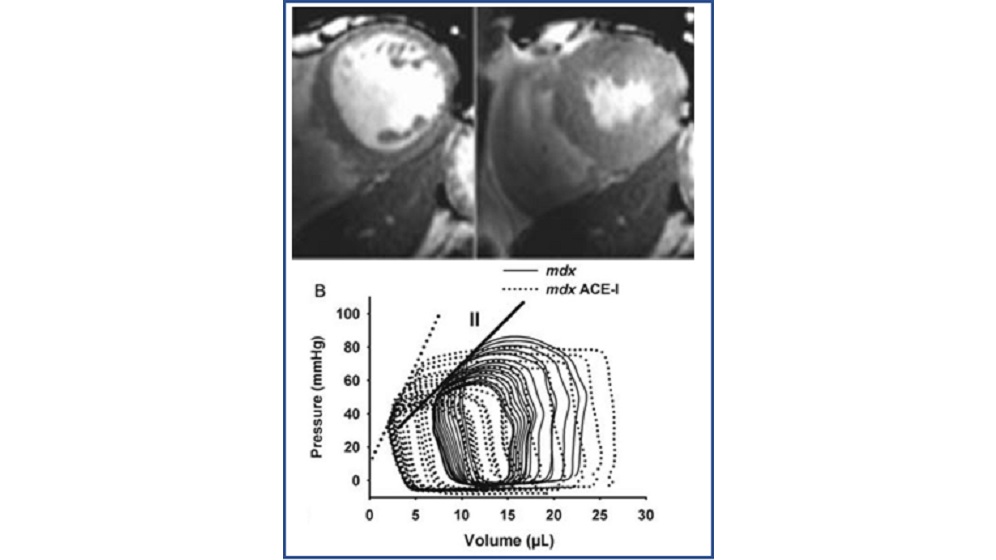 Magnetic resonance imaging and pressure and volume loops to study heart function.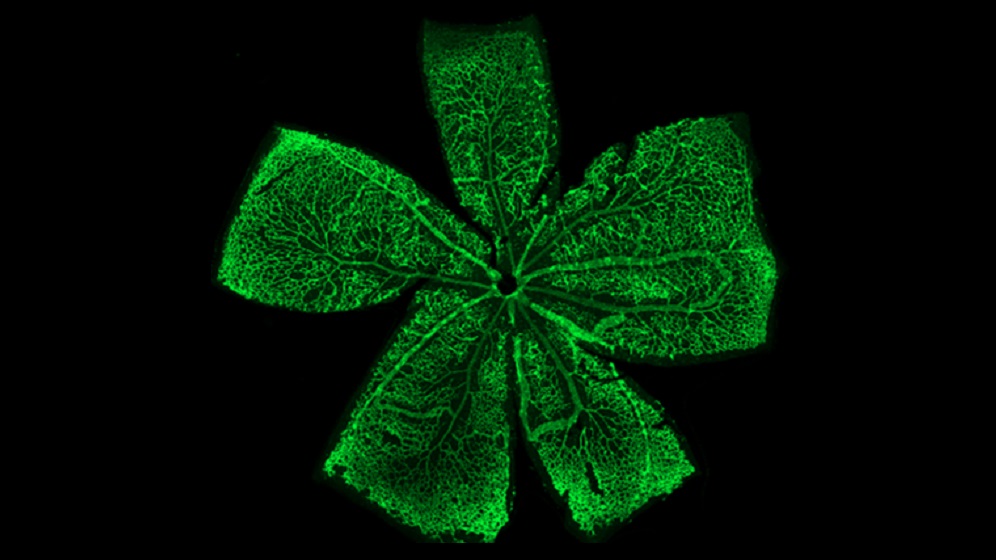 Vascular network of the retina.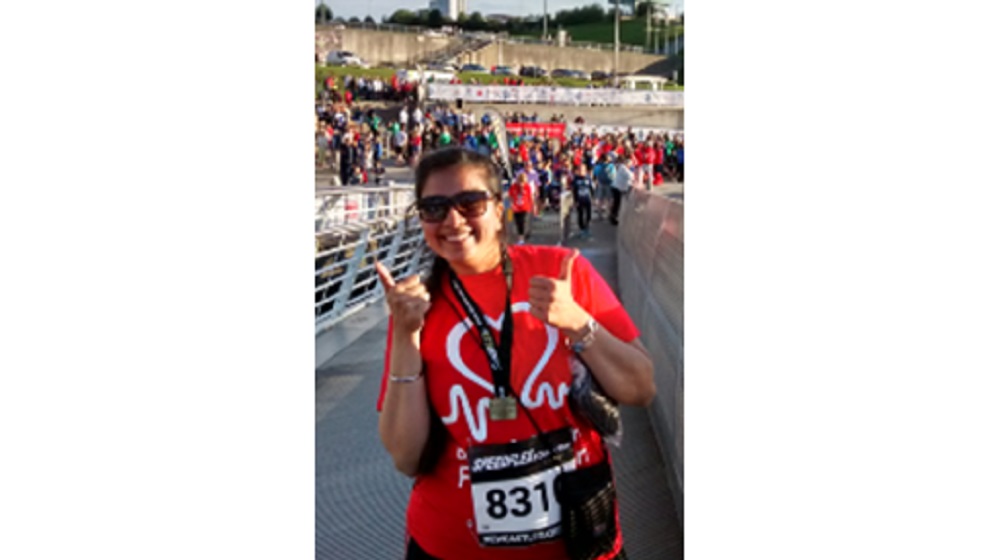 Dr Esha Singh supporting the BHF at the Great North Run.