Chemistry Student cycles over 1100km in 8 days to raise £4200 for Cancer Research UK
13 January 2021
Being a keen cyclist since he was young, often going out on rides with his dad, Nick felt this was the right endeavour to raise some much needed funds for the charity. In December 2019, Nick and his dad completed a challenge called the Rapha Festive 500 together, where riders travel 500km over the 8 days between Christmas Eve and New Year's Eve. Unfortunately, due to treatment, his dad wasn't going to be able to join him this year, so Nick decided to push himself to complete 500km for each of them, meaning 1000km in 8 days.
Nick said, "I thought it would be a good way to raise money for CRUK, as all charities have been affected by the COVID-19 pandemic and I felt like it would be a good way to end 2020 in a positive way."
Setting off just after sunrise on the 24th December, the challenge began. Over the massive distance, Nick was joined on occasion by supportive friends who rode alongside him, providing much needed company and motivation. However, most of the journey was spent by himself, in the often dreary and unpleasant weather conditions that come with winter in the UK. He hit his 1000km target on day 7, a day early, but still went on to complete one more day.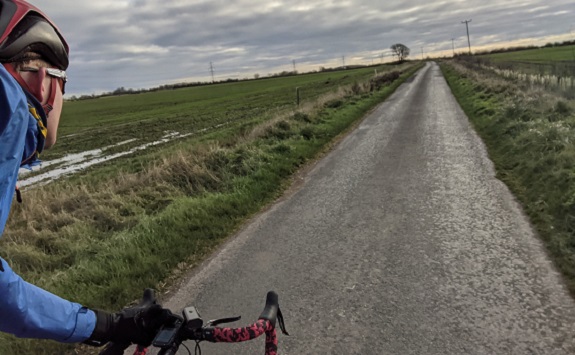 Nick continued: "At this point (day seven) I had another glance at the fundraising. I had set a fundraising goal of £500 but I was taken aback to find I had raised over £2500. As my target had been smashed I decided that I would go out on day 8 to try to go over 1100km. My friend and GB-Duro champion Josh Ibbett joined me, and with the final day completed I had ridden 1124km in 8 days, raising (as it currently stands) £4200 for CRUK.
I would like to say a huge thank you to every single person who supported me, through donating to my fundraising, sharing the link to the fundraiser and all those who sent me messages of support. I was really taken aback by the level of support I received, especially from those within the university cycling club (NUCC)! It was a tough experience, and not one I fancy repeating in winter again, although it was very rewarding on a personal level."
Newcastle University Chemistry Students work closely with CRUK throughout their studies and The Cancer Research UK Drug Discovery Unit at Newcastle receives generous funding from CRUK to find new treatments for cancer.
Dr Ian Hardcastle, Reader in Medicinal Chemistry at Newcastle University, said: "Our medicinal chemists design and make new molecules that are targeted to block proteins essential for cancer growth and survival. Drug discovery at Newcastle over many years has resulted in the discovery of two life-saving drugs - rucaparib, used to treat ovarian and prostate cancer, and erdafetinib, used for bladder cancer. We also have two new drugs (ASTX295 and AZD7648) that are in early clinical trials.
We really appreciate Nick's fundraising efforts, the money he has raised will help pay for essential chemicals and equipment to allow our work to continue."
If you'd like to contribute to Nick's incredible fundraising efforts please visit this link to donate.