Learning Analytics collected from various educational services across the University provide valuable insights into the learning and teaching process. Newcastle University employs a range of educational technologies with embedded analytics and aims to deploy a central view of these data for colleagues and students.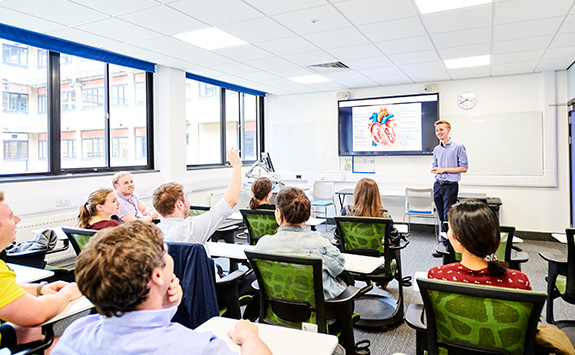 Why should you use learning analytics?
At Newcastle University, the key objectives of using learning analytics are to
enhance the student learning experience,
increase student academic attainment, and
support student wellbeing.
Engagement and learning experience
Students' engagement in their learning is essential for them to excel and achieve their objectives. Self-organised and social interactions with the University's facilities and services provide a starting point for students to reflect on their learning. Teaching staff can use analytics about students' learning preferences and interests. These insights may inform teachers' decisions about instruction, teaching and learning and assessment design and support for students.
Performance and academic attainment
With the increasing use of technology, students' academic attainment can be supported by enhancing their learning experience.
Student Wellbeing
Effective use of analytics at Newcastle University aims to support student wellbeing by helping them make informed decisions about their learning.
What is the educational potential of using learning analytics?
You can use learning analytics to support student learning. For example, knowing how many students viewed specific content could inform your instructional design, class discussions, assessments and future course development. Learning analytics can also inform supervision and discussions between personal tutors and tutees.
Who may benefit from the use of learning analytics?
Academic

staff

(Teachers and Teaching Assistants

) can

use learning analytics

in their instructional design.

Functional groups such as course teams who

seek

to improve current courses or develop new curriculum offerings.

Directors

and

Administrators

who

support teaching and learning.