Learning Analytics is the collection and analyses of different types of data relating to student engagement and attainment, with the aim of better understanding and improving the student experience. The University employs a range of educational technologies with embedded analytics. Providing a centralised source of this information can help to inform students and staff about any changes in behavioural engagement and help with meaningful discussions as part of personal tutoring and/or to signpost students to wellbeing or study skills support.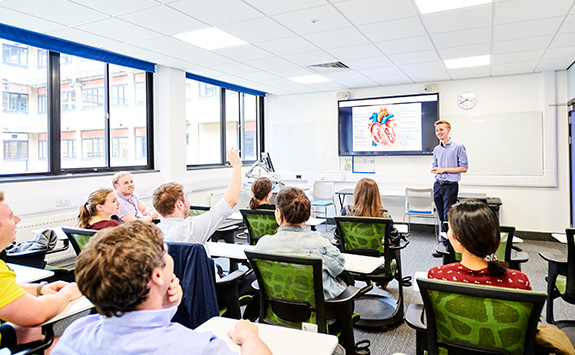 Why should you use learning analytics?
At Newcastle University, the key objectives of using learning analytics are to:
enhance the student learning experience,
increase student academic attainment, and
support student wellbeing.
Engagement and learning experience
Students' engagement in their learning is essential for them to excel and achieve their objectives. Teaching staff can view students' engagement data from technologies such as Canvas to derive insights that may inform them if there are any changes in student engagement behaviours.
Performance and academic attainment
Students' academic attainment over time can be viewed, providing staff with an indication of a student's overall performance, highlighting if any additional academic support is required.
Effective use of analytics at Newcastle University aims to support student wellbeing by helping students to make informed decisions about their learning, and supporting staff to identify any changes in engagement, which may highlight any wellbeing concerns.
What is the educational potential of using learning analytics?
You can use learning analytics to support student learning. For example, knowing how many students viewed specific content could inform your instructional design, class discussions, assessments and future course development. Learning analytics can also inform supervision and discussions between personal tutors and tutees.
How can you use learning analytics?
Personal Tutors and Professional Services colleagues who support tutoring processes may have different purposes for using learning analytics, with varying frequency of use. While there is no 'one-size-fits-all', colleagues can use the tools within Canvas New Analytics or view these possible scenarios as a starting point.
Additionally, Jisc's learning analytics tool, Data Explorer, will be coming soon to Newcastle University. The tool could be used to help inform, support, and improve teaching and learning practices.
Who may benefit from the use of learning analytics?
Personal Tutors can use the data to support tutoring conversations.

Academic

staff

(Teachers and Teaching Assistants

) can

use learning analytics

in their instructional design.

Functional groups such as course teams who

seek

to improve current courses or develop new curriculum offerings.

Directors

and

Administrators

who

support teaching and learning.

Students can view their engagement and attainment data, providing them with a more personalised learning experience.