Promotion Based on Teaching
Delivering teaching and supporting learning of the highest quality.
Promotion on the Basis of Excellent or Exceptional Teaching
These pages summarise information and point to further sources which may be helpful if you are considering applying for promotion on the basis of your achievements in teaching. This might be promotion based on excellence in teaching combined with excellence in research and innovation, or promotion based solely on exceptional performance in teaching.
You may be interested in the Evidencing Teaching Excellence development programme workshops and one-to-ones.
This Evidence base document (PDF) is particularly useful to support you identifying:
what kinds of evidence you could use in an application
how to present such evidence in support of your case.
The Evidencing Teaching Excellence Programme
One of the ways Newcastle University recognises and rewards excellence in learning and teaching is through our academic promotions process. 
This development programme supports colleagues making promotion applications on this basis.
Some of the key questions the programme will address are:
How do I recognise what I do well in my teaching?
What types of evidence should I collect and present if I want to apply for promotion on the basis of teaching excellence?
How do I make a strong case for promotion on the basis of teaching excellence?
How can I get feedback on my application for promotion, from people who have already been successful in getting promotion on the basis of teaching excellence?
Are there examples of people being promoted on the basis of excellent teaching?  Are there things I can learn from these examples?
This programme is for any member of academic staff thinking of applying for promotion in whole or in part on the basis of their teaching (whether they are on Teaching and Research or Teaching and Scholarship contracts). 
The elements of the programme are designed to both stand alone, and work together. Colleagues may choose to attend selected elements of the programme, or all three elements.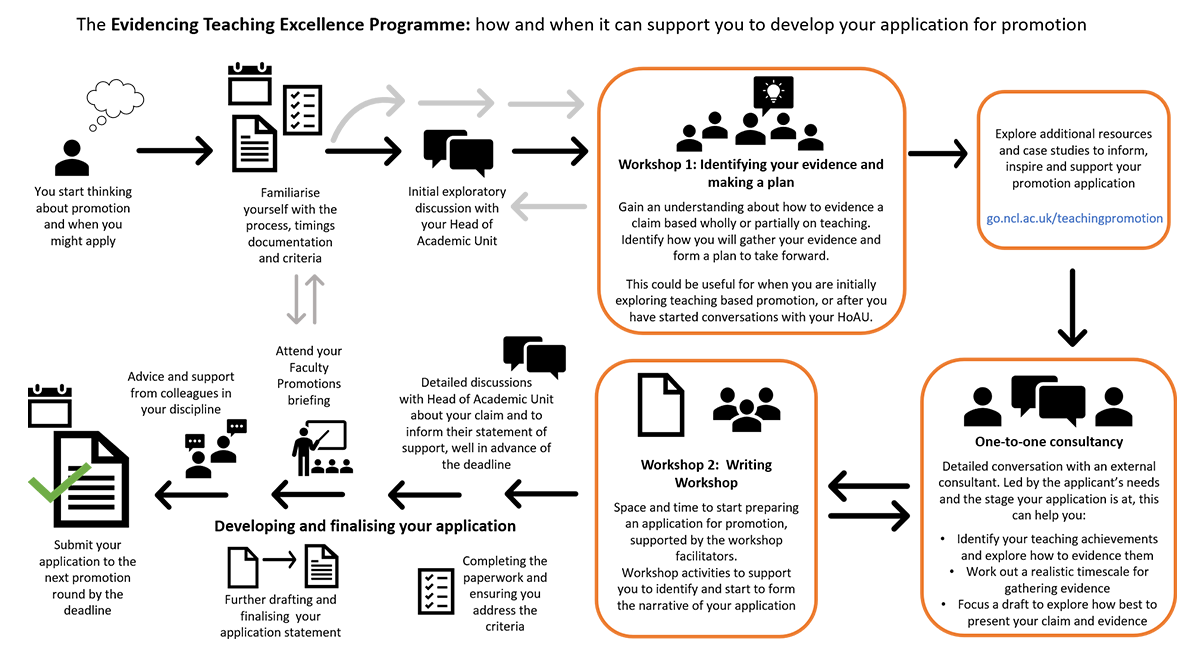 Workshops and Consultations
The dates for the 2020 programme have now passed but the information and resources are provided before for reference.
There are three elements to the programme:
Workshop: Identifying your evidence and making a plan
This workshop gives you the opportunity to look critically at the application process for promotion based wholly or partly on teaching, to understand what evidence underpins claims of excellence. by the end of the session you will have identified strategies for recognising and collecting evidence effectively, and devised a brief action plan.
Resources: PowerPoint Slides | Workshop 1 Case Study | Workshop 1 handout
One-to-one consultations
These individual sessions provide an opportunity to discuss how you might most effectively gather and present your own evidence of excellent teaching as part of a promotion application and identify a realistic timescale for developing your claim.
Writing workshop
This practical workshop gives you the opportunity, with support and feedback from the workshop facilitators, to start preparing a promotion for application on the basis of teaching excellence. The focus is on helping participants to write the best application they can based on their experience.
Resources: PowerPoint slides | PowerPoint slide with script | Writing extract examples with notes