Feedback should be a dialogue rather than one-way communication. It should clearly link to the learning outcomes and encourage students to reflect on their learning.
Good feedback has a positive impact on the person receiving it:
it encourages attention to the assessment task - by focusing the student's effort on the task,
it motivates the student to continue to work - by encouraging them to do the best they can,
it provides evidence of existing good practice - so the student knows what and why they have done well,
clarifies the expected standards - for the piece of assessment
signposts where and how to improve.
A constructive feedback dialogue enables the student to take control of their own assessment by making them active participants in the process, not simply the recipients of it.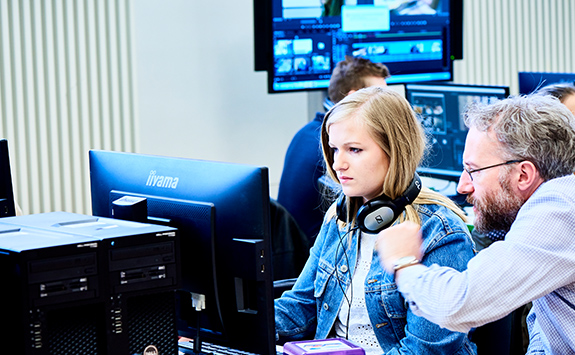 What should be included?
Feedback needs to explicitly state
what was done well (or badly) and why
where there is room for improvement and why
what steps to take to improve
Good feedback is fair, honest and clear. The feedback wording, the mark and the aspects of the work the feedback refers to, need to be aligned or consistent.
Reflecting the language of the assessment criteria in your feedback, and ensuring your comments are linked to the areas identified in the rubric, will help students to see how you have come to the grade awarded.
It is important to note what was done well. Many students find it hard to self-assess and so cannot identify for themselves where they have done well which can makes them unable to repeat their success in these areas.
When suggesting what to improve, it is good practice to pick out no more than three aspects of the work. Giving students a longer list can lead to them just 'shutting down' and ignoring all your advice.
These three aspects should:
be the key things that would make a difference to the quality of the work
be achievable within the students' time and other work constraints
refer to material which the student can reasonably access.
Ways to provide feedback
Feedback can be provided to students in a wide variety of ways. Students respond differently to feedback in different formats, think about using a combination of approaches to provide both individual and generic feedback.
In a lecture provide verbal general feedback and post the ReCap recording on Canvas.
Generic feedback or common mistakes posted in a document on Canvas.
Audio recordings can be made, edited and uploaded quickly and easily at your desk through ReCap, the personal capture version of ReCap. Turnitin also allows voice comments.
Canvas quizzes allow general feedback to be written ahead of the assignment which are automatically applied to incorrect answers.
Turnitin enables you to build a bespoke library of feedback comments for a given module or assignment which can be quickly and easily added to the work. Turnitin is an efficient way of marking online which is well received by students.
Individual verbal feedback in tutorials can expand on the written comments on an assessed piece of work.
Students can give each other feedback through Peer Assessment exercises, which encourages students to be reflexive.