Synchronous Online Teaching
Key points when planning synchronous online teaching
Many students value aspects of synchronous, face-to-face delivery – particularly the opportunities to ask questions and connect with their peers. However, many students also value aspects of non-synchronous delivery.
The use of synchronous online teaching sessions and lectures need to be as part of an overall blended approach, and should not be the sole form of delivery.
Any synchronous online lecturing should not be a like-for-like replacement of a present-in-person lecture (e.g. this should not normally be for an hour).
It is important to manage the load of all synchronous online sessions by planning interactivity and changes of pace, as this form of learning and teaching can be more cognitively demanding for both lecturers and students (compared with present-in-person delivery, non-verbal cues are harder to read in synchronous online settings).
Practical considerations
There are important practical factors to consider for synchronous online sessions - many of which are particularly important if our education is to be accessible and inclusive for all of our students and colleagues:
Students need to have a suitable personal learning environment to work from to engage with online sessions.
Synchronous online teaching demands that students and staff be available at various points in core teaching hours (8:30-18:30 UK time zone).
To participate in online sessions, students need to have suitable hardware (e.g. a PC, laptop or tablet computer) and reliable internet access.
Similarly, colleagues delivering need reliable internet and an appropriate environment from which to teach (they may have difficulties posed by shared offices on campus; family members at home; and/or be impacted by caring responsibilities).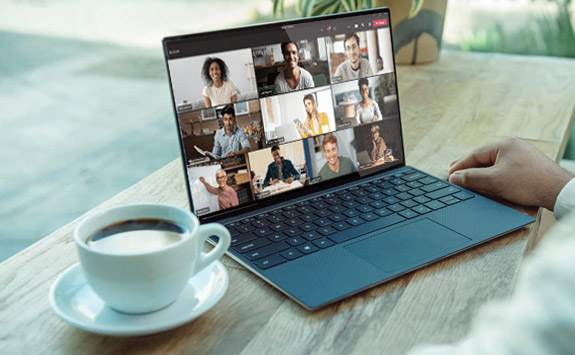 The way I taught this module in the online synchronous sessions was to adopt the same human approach to how I would engage students in the classroom, through structured activities, humour, motivation, and relational practice.
Student attendance at synchronous online sessions
While our expectation is that UK-based students will normally be able to participate in synchronous online teaching, there are a variety of legitimate reasons why this may not be possible:
Illness, hospital appointments, caring responsibilities
International students not yet resident in the UK who are affected by time zones
Students with temporary or ongoing technical issues
Students may not have a suitable personal learning environment to work from (e.g. a lack of private space at the scheduled time away from noise/distraction)
Recognise the demands of online teaching and plan for engagement
Manage your students' cognitive loads by keeping synchronous online sessions short, and planning for interactivity and changes of pace. For example:
Limit sessions to half an hour and use the remaining time for breakout room activities or Q&A.
Don't expect you or your students to be able to monitor text chat while talking or listening. Plan in pauses to check for questions or comments to respond to, bringing pertinent points to the attention of the cohort. An academic colleague or PGR Teaching Assistant may be able to support this activity.
Use in-meeting polls or student response systems (e.g. Ombea) to check student understanding
Invite responses to questions: by speaking, text chat, emoji, yes/no reactions etc.
Deliver the session with a colleague
Share links to pre-recorded media and allow time to watch-along
Even though synchronous teaching is possible, consider providing some of the content as structured guided learning (videos, quizzes, activities) to enable students to engage with a portion of the lecture content at their own pace.
Resources
Engaging Students in Zoom/Teams (digest)
Zoom
See NUIT's Zoom resources for information on breakout rooms, polls, in-meeting chat and reactions.
Join the Zoom community
Teams
Provide session resources in advance
Students with poor internet may need to join using a phone line or with their video turned off, and may struggle to download resources shared in the session. This can be mitigated by uploading resources to the VLE in advance. Students can then take notes on their local copy and adjust the presentation of these to suit their individual needs.
Create a safe environment
Experience of teaching online also has new challenges related to online etiquette, dignity and respect in online spaces. We need to ensure our online environment are safe learning spaces.
Make adjustments as required to support students with SSPs
In the same way that you would on campus, you will need to make minor adjustments to support students with SSPs as needed. For example:
Students with hearing impairments will find it helpful if you keep your camera on so that they can benefit from lip reading. They may also benefit from using automatically generated live captions which can be enabled by attendees.
Students with mental health difficulties may prefer to remain off camera – give them permission to be present in audio only.
Resources
Timetabling and scheduling
To reduce timetable clashes, synchronous online sessions can be timetabled by the central timetabling team with input from academic schools to reduce potential for clashes in the student timetable.
There is no automatic method of scheduling Zoom or Teams online meeting spaces at present. This will need to be done by the module team.
See Scheduling Synchronous Sessions for more information.
Provide recordings and captioning for synchronous online lectures
Colleagues should plan to record synchronous online sessions and make this available to their cohort via the VLE.
Unlike present-in-person sessions delivered in a teaching room, online synchronous lecture delivery will not be recorded automatically via RECAP. Additional action is required for captioning/transcription of these sessions (which is a legal requirement for recordings held for longer than 2 weeks).
See Recording Online Teaching for more information.
Dual/hybrid delivery should not be used
We do not recommend either of the following:
Live broadcast of lectures from campus teaching locations.

Whilst

ReCap

(

Panopto

) does have the ability to provide one-way digital content and audio presentation (but not presenter talking head) to remote audiences, the current infrastructure is not optimised to handle volumes of concurrent live streams.

Concurrent lecturing to on-campus audience and simultaneous use of Zoom/Teams to engage an external audience

. In-venue AV systems are not currently equipped to deliver a high quality, hybrid learning experience. Staff can connect their own devices to the AV system; however, this will deliver a very basic and low-quality experience for the remote audience and could disrupt the whole class in the event of connectivity issues. In addition, splitting attention between local and remote student groups places significant cognitive load on those lecturing and can result in a degraded experience for both audiences.