Workshops and Training
Events and learning opportunities to enhance your skills
Canvas
One hour sessions delivered on Zoom - consisting of demonstration and opportunities to ask questions.
H5P
H5P is a tool that lets you create simple online content such as interactive videos, quizzes, games and presentations. This training webinar offers a 30-minute introduction to H5P looking at some of the benefits of using the tool, followed by an optional 30-minute task where you can try creating some H5P content yourself.
Suspended Sessions
Although these sessions are no longer being scheduled as open events, they can still form the basis of bespoke in-school training. Please
get in touch
to find out more. You can also see key messages from these session in the Sway digests below.
Creating video content
Find out how to get the best out of equipment you have, how to capture and edit accessible video, and how to upload your creations to Canvas.
Launch the Creating Video Content digest on Sway.
Video next steps: edit, caption and share your videos
Launch the Video Next Steps: Edit, Caption and Share your Videos digest on Sway.
Effective rubrics for digital assessment
The digest uses rubric examples from across the University and gives pointers on how to create and develop these for use in your own teaching teams. It has notes on rubric structure; the differences between qualitative and quantitative rubrics; how criteria relate to module learning outcomes and a checklist for evaluating your rubric.
Launch the Rubrics Digest on Sway.
Electronic marking with Tunitin
This digests looks at the benefits of using Turnitin, setting up an assignment, marking tools, QuickMarks and Rubrics.
Launch the Electronic Marking with Turnitin digest on Sway.
Engaging students in synchronous online learning
Explore the tools available in Teams and Zoom to virtually engage with students.
Launch the Engaging Students in Synchronous Online Learning digest on Sway.
Engaging students in synchronous sessions with digital polling
Find out about some of the benefits of using polling, and some of the tools available for your synchronous sessions.
Launch the Engaging Students in Syncronous Sessions with Digital Polling digest on Sway.
Maintaining student engagement
Explore techniques and approaches for keeping your students engaged in online learning.
Launch the Maintaining Student Engagement digest on Sway.
Non-synchronous learning activities
Explore the role and benefits of non-synchronous learning activities in your teaching.
Launch the Non-Synchronous Learning Activities digest on Sway.
Peer learning
Find out about different models of peer learning, investigate advantages, address challenges and consider how to frame and deliver peer learning using tools in Canvas.
Launch the Peer learning digest on Sway.
Drop-in Sessions
Need advice on how to create digital content, set up your assessment, or make the best use of university-supported digital technologies? Pop into a drop-in session and speak to one of our advisors.
We have a fixed pattern for our drop-in times this month.
Every Monday 11:00 – 12:00
Every Wednesday 09:00 - 10:00
Every Friday 15:00 - 16:00
For detailed log-in and access information please refer to our joining instructions (internal)
Canvas Orientation
This is a comprehensive online training resource developed for all Newcastle University colleagues and can be accessed 24/7 from your Canvas dashboard.
Module Design ABC to Canvas
You may be developing a new module for the first time or rethinking the delivery of a familiar module. In this short course we introduce you to some new tools – a design canvas and our localised version of the popular ABC learning design workshop developed by UCL.
The course follows the general structure of an ABC workshop with a number of short activities for you to complete. At the end of this you will have prototyped a module design that you can then build in Canvas.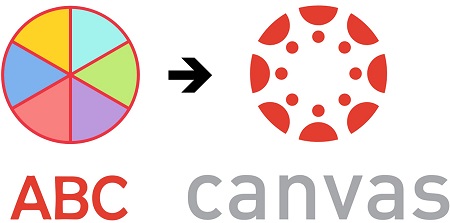 ‌‌
The design process is by its nature a reflective one, and during this course we will ask you to think deeply about what you teach and how you teach it, about what students will learn and how they will learn it.
You will get the most from the course if you complete the suggested activities in the order that we present them.
The activities and suggested timings are below:
Design conversations (20 mins)
The shape of your module (5 mins)
Your module storyboard (20 mins)
Adding activity detail (15 mins)
Mark formative and summative assessment (10 mins)
Review the shape of your module (10 mins)
Plan your next steps (5 mins)
The course has short articles and videos between the activities to guide you through the steps taking you from ABC to Canvas. Along the way you will hear from colleagues who have used this approach to deliver engaging student learning.
The course is a self-enrol Canvas course. Join it at this link: Module Design: ABC to Canvas (once you have joined it will be listed as one of your courses)
Work through this course independently, or with your module team. We can also offer this as bespoke workshop for schools or stage teams - contact ltds@ncl.ac.uk to discuss your requirements.
Personal Tutoring
This short, self-paced course is available in Canvas and will introduce personal tutoring best practices and responsibilities for the role.
How to Create a Podcast
This short course takes around one hour to complete and guides you through the steps needed to make your own podcast, from initial ideas to uploading your first episode.
Networks
Teams communties that you can join to share ideas, ask questions, and connect with your colleagues:
Digital technologies:
For a range of learning and teaching inspiration
Newcastle Educators: a peer-led community of educators, who value the opportunity to get together and discuss common interests. Regular EDUBITES events provide a great opporunity to bring the Community together.
NUTELA: Newcastle Univeristy Technology Enhanced Learning Advocates: an enthusiastic

group of academic

and professional service staff who

deliver hands-on sessions where

you can learn about and try

technologies that you can use in

your teaching.