Meet Rebecca Stobbs
19 January 2022
A new or old face?
To some of you, my name may sound familiar and that is because I have worked at Newcastle University since October 2018. Before joining the Business School in December, I worked in NU Advancement (the office that looks after the entire alumni community – all 250,000 of you) as an Alumni Officer. I looked after our alumni societies and international community, and thoroughly enjoyed getting to know you through webinars, emails and the occasional virtual and in person catch up over a coffee.
What brought me to the Business School?
I like an adventure - in the first half of 2022 alone I have already booked a bungee jump, an ultra-marathon and sunrise kayaking. So when I saw that the Business School was looking for an Alumni Relations Manager, I thought this is right up my street! My experience of working with our alumni community, building opportunities across the globe and developing alumni societies puts me in good stead to build opportunities that are relevant to you.
So what interests our alumni?
It's a great question and one that requires us to talk to you. We want to find out what you want – after all you are the experts! I hope there is activity which piques your interest across different stages of your career and life and in the coming months this is something I want to work with you to develop further. In the last few months, we have seen Business School graduate Sam Waterfall deliver a masterclass on making a career change and in the coming weeks our research-led Newcastle Discover is launching, so lots to look forward to.
I am particularly interested in how you want to stay connected with the Business School community. Would you like to see alumni societies, more masterclasses or have the opportunity to stay connected with academics and tutors? If you would like to share your thoughts, please do connect with me using my details below.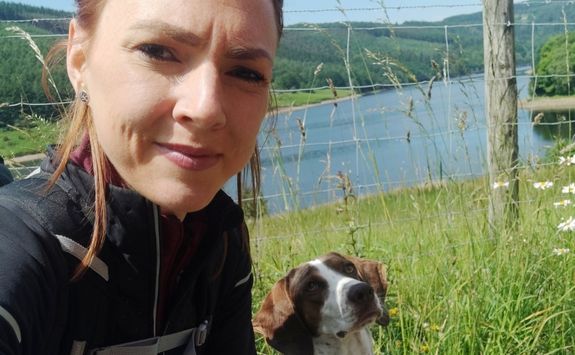 What one thing should you do today?
We want to stay connected with you and keep you up to date on opportunities that support you. To do that, having your most up to details and contact preferences is key. How can we invite you to a London mixer or webinar for alumni in China if we don't know you're in the area or have a way of saying hello? Updating your details is easy to do and should take no more than 5 minutes, just click here.


Who is Rebecca outside of work?
I like to stay busy and 2022 is looking to be one of my busiest yet, and I wouldn't have it any other way. I have already hinted at the energetic activities which I have registered for, they seem like a good idea at the time but ask me on the event day and I might tell you otherwise. I also enjoy travelling. 2021 saw me discover gems closer to home with visits to Inverness, the Peak District and Monmouthshire, making sure any place I visit now is dog-friendly after welcoming a rescue dog, Martha, into my home in 2020.