Water Infrastructure and Resilience (WIRe) CDT
WIRe EPSRC Centre for Doctoral Training in Water Infrastructure and Resilience
CDT WIRe
60 PhD Students are to be funded over the next five years. Minimum entry requirements equivalent to a UK upper second class degree (2.1) and preferably an MSc in a relevant subject.
You will:
tackle critical issues associated with our water infrastructure to make them more resilient to the effects of climate change, population growth, changing water quality and regulatory pressures
develop solutions that consider the complexity of water infrastructure through whole systems thinking
work on PhD projects that have been co-created with end-user partners
undertake an industrial placement and an overseas placement
receive hands-on training using large scale, experimental facilities
receive a stipend of £19,000 per year (with fees paid) for eligible students (UK and EU)
Why this CDT?
develop multi-disciplinary skills
deliver cutting edge research with industry partners
access to outstanding, world-leading experimental facilities: www.ukcric.com
develop effective communication strategies to disseminate your research
CDT WIRe website: https://cdtwire.com/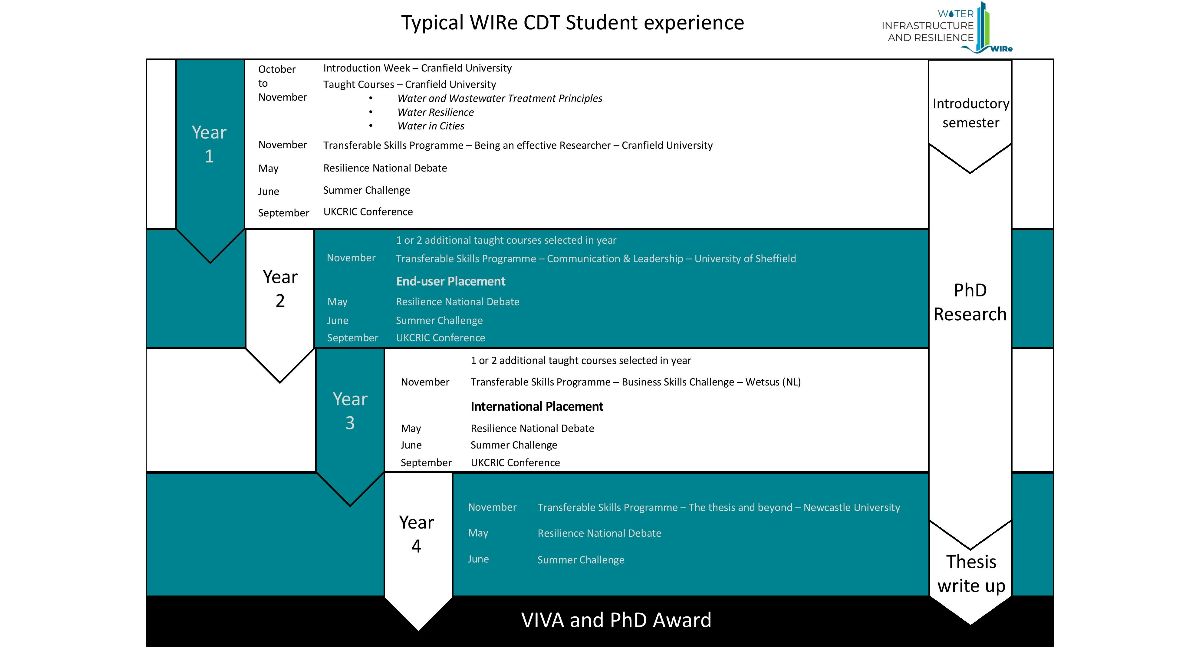 Cohort II: 2020
Sam Settle
Ali Leonard
Anna Stefania Laino
Charalampos Ntigkakis
Cohort I: 2019
Christos Iliadis
PhD Title: A new paradigm for urban flood design storms accounting for variability in space and time under climate change
Start Date: September 2019
Research Area: Water
Supervisors: Vassilis Glenis, Professor Chris Kilsby
Sponsors: EPSRC, Newcastle University
From the final stage of my second degree, I have had a passion to investigate extreme storm events in combination with climate change. I am keen to explore the challenges a city has to face during events such as floods, and the problems with current drainage systems.
The project I carried out for the BEng in Civil Engineering (2017) was IDF curves and flood estimation of urban stormwater network design. My Master's Thesis explored Estimating IDF curves at an ungauged site and designing a stormwater network in a changing climate (non-stationary).
I worked with energy efficiency and structural analysis and design of buildings in real life for many years. I decided that I needed a change in direction. The Engineering Physical Sciences Research Council (EPRSC) offered the opportunity to combine theory with practice in an industrial setting. The WIRe programme allows me to further my research in floods and modelling.
I will analyse precipitation extremes in a changing climate. I will offer solutions in the resilient design of urban drainage using real cities.
As I am at the beginning of my PhD, I cannot say exactly what techniques or methodologies I will use. But I can say with certainty that I will use:
high resolution climate models outputs
advanced stochastic modelling methodologies
the CityCat urban flood modelling system
Qualifications
BEng in Mechanical Engineering (2012)
BEng in Civil Engineering (2017)
MSc in Civil Engineering & the Built Environment (2018)
Employment
Assistant Engineer (2008-2012)
Mechanical Engineer (2012-2017)
Civil Engineer (2017 - September 2019)
Contact
Alethea Walker
PhD Title: Understanding how connectivity, vegetation specification and maintenance regimes contribute to high quality Green Infrastructure
Start Date: September 2019
Research Area: Water
Supervisors: Dr Claire Walsh, Professor Chris Kilsby, Dr Ross Stirling
Sponsors: EPSRC and Northumbrian Water Group
I graduated with a BSc (Hons) in Human and Physical Geography in 2016. I developed an interest in the processes of flooding and the juxtaposition society shares with water. This interest led me to an MSc in Flood Risk Management here at Newcastle University. During my MSc, I discovered a passion for Green Infrastructure. Green Infrastructure uses vegetation to combat runoff. It provides many other benefits for the ecological and social environments around it.
I built on this found interest of engineered vegetation. Following my MSc, I worked as a Sustainable Drainage Systems (SuDS) Officer for a Lead Local Flood Authority. I approved flood risk assessments for new developments. I tried to promote the multifunctional principles of Green Infrastructure.
Working within the industry led me to understand the existing challenges. We understand Green Infrastructure and its benefits, and the concept of SuDS is no longer new. But some developments still aren't achieving high quality SuDS. I wanted to do something to address this. The WIRe PhD provides a great opportunity to research the current gaps in our understanding and implementation of Green Infrastructure. My PhD project will focus on the 'how' of delivering green infrastructure. I will examine maintenance, vegetation specification and connectivity of Green Infrastructure.
The National Green Infrastructure Facility offers the opportunity to inform my research. I will conduct experiments at both the outdoor ensembles and the indoor SuDS lab. The project will focus on the current and future urban green spaces of Newcastle upon Tyne. I will work alongside my industrial sponsors Northumbrian Water and their partner Stantec.
Contact
CDT end-user partners
The programme centres around unique and world-leading water infrastructure facilities. It builds on an internationally renowned research consortium. Cranfield University, The University of Sheffield and Newcastle University are partners in this innovative programme.
The CDT will produce scientists and engineers to deliver novel and disruptive thinking. This will enable a resilient water infrastructure future. The training programme is inspirational, relevant and end user-led
Being a PhD student in the WIRe programme is a special and unique experience. It offers opportunities beyond most doctoral training. In return you will need to be fully committed to the CDT. You will attend an induction semester at Cranfield University. You will also attend a transferable skills programme and a Summer Challenge.