Mechanical Engineering: Your Learning Experience
We've designed our curriculum with input from the Mechanical Engineering industry. Our courses will equip you with the technical and professional skills to become an engineer of tomorrow.
How you'll learn
You'll design and work on integrated sustainable projects as a member of a multidisciplinary team.
From wind turbines to race cars, bridge building to locomotives, you'll develop your technical and professional skills and build experience through lab work, projects, site visits and problem-solving.
Flexible first year
During your first year, you'll explore several engineering disciplines. You'll gain a broad understanding of engineering in a multidisciplinary context. You'll also be taught alongside Civil Engineering and Electrical & Electronic Engineering students.
Lake District field course
During your first-year induction week, you'll join a unique residential field course in the Lake District.
You'll learn to work with your fellow student engineers and gain an understanding of engineering principles.
It's the perfect opportunity for you to engage, get to know each other and form friendships.
Learn with support
We care for our students as individuals right from application stage beyond graduation. We'll support you throughout your learning journey, so you can get the support you need, when you need it.
As one of our Student Engineers, you'll benefit from:
an extended induction programme
a dedicated Engineering Student Wellbeing Advisor
a personal tutor
a student buddy system
a staff student committee
international and exchange tutors
our award-winning Careers Service
our school employability support
The University also provides student support and wellbeing services, and our Students' Union has a range of resources available.
Engage with industry
You'll engage with industry from the start of your journey at Newcastle University. You'll develop the skills and knowledge demanded by the engineering sector.
You'll gain industry exposure to professional practice through:
guest lectures
industrially linked projects
placements
professional events
skills modules
mock interviews
work shadowing
summer experiences
Our career events also provide an opportunity to engage with our industrial partners. You'll get an insight into the sector and build your professional networks. This is the perfect opportunity to explore future placements and graduate opportunities.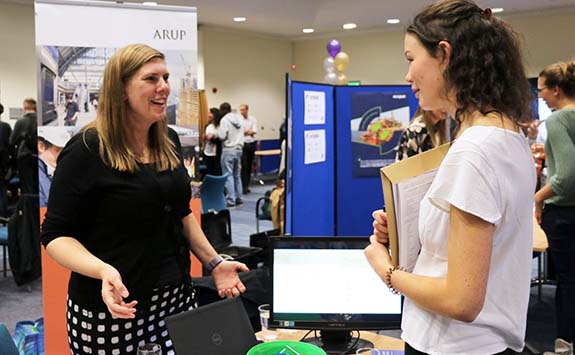 World-class facilities and living laboratories
Our world-leading research facilities include:
bio-engineering laboratory for bio-materials manufacture and testing
climate controlled bi-axial material testing
computer aided design (CAD) laboratory
diesel-electric locomotive
driving simulator
engine test cells, wind tunnel and water flow channels
formula student car design, build and test facilities
dedicated computing suites featuring industry-standard computer software
Stephenson Building
The redeveloped Stephenson Building is opening in 2023. This £110m investment is a place for innovation and collaboration, featuring:
student-led maker space
multi-purpose teaching laboratories
digital learning spaces
blended social learning spaces