Research Theme: Pollution Control and Resource Management
We devise cutting-edge solutions to keep our water supply clean and safe.
Water is our most precious resource. We develop cost effective and efficient methods of mitigating many types of water pollution. We devise cutting-edge solutions to keep our water supply clean and safe.
Almost all human activities rely on a supply of fresh water. An increasing population coupled with climate change means that these supplies are under threat.
Pollution comes from many sources. It arises from agricultural, industrial, household, recreational and environmental activity. To ensure an adequate supply of water, we need to monitor and control pollution.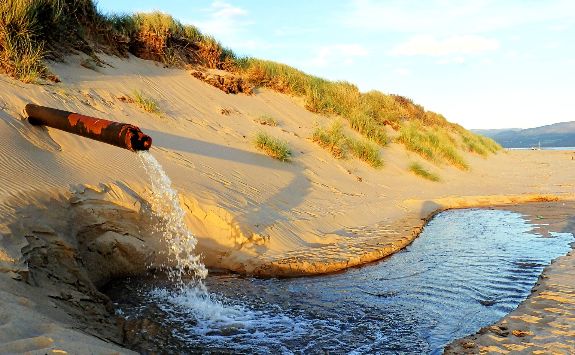 Biologically mediated abiotic degradation of chlorinated ethenes: a new conceptual framework
Chlorinated solvents are prevalent pollutants. They include tetrachloroethene (PCE) and trichloroethene (TCE). They are difficult to remediate, despite years of research. We are investigating biologically mediated abiotic degradation (BMAD) of PCE and TCE.
We are applying a new conceptual framework based on solid-state mineral chemistry. We are developing our understanding of BMAD of the persistent chlorinated solvents PCE and TCE. We are investigating BMAD of PCE and TCE by magnetite, Fe sulfides and Fe-bearing clay minerals.
We are carrying out laboratory-based experiments with synthesized pure minerals. We are also using sediment from contaminated sites. At Newcastle, we focus on the role of clay minerals and clay mineral iron reactivity for chlorinated solvent degradation.
The project won the SERDP 2018 Project of the Year Award for Environmental Restoration.
Project Leader
Staff

James Entwistle (PhD studentship)

Sponsors
Partners

University of Iowa, USA (Lead)
Geosyntec Consultants, USA

Dates
Related publications

Entwistle J, Latta DE, Scherer MM, Neumann A. Abiotic Degradation of Chlorinated Solvents by Clay Minerals and Fe(II): Evidence for Reactive Mineral Intermediates. Environmental Science & Technology 2019, 53(24), 14308-14318.
Culpepper JD, Scherer MM, Robinson TC, Neumann A, Cwiertny D, Latta DE. Reduction of PCE and TCE by magnetite revisited. Environmental Science: Processes & Impacts 2018, 20(10), 1340-1349.
Cleaning water with mud: clay minerals producing reactive oxidising species
Clay minerals are abundant and low-cost. Their reaction with oxygen has the potential to reduce the energy and chemical requirements of water treatment.
We take for granted the high quality drinking water that comes to our homes. We expect the wastewater we produce to be treated to a level where it is safe for releasing into the environment.
Water treatment involves huge inputs of chemicals and energy. These inputs make organic contaminants harmless. They destroy harmful microbes. But these inputs make water treatment a costly process, in both financial and environmental terms. We explored whether clay minerals can sustainably generate reactive oxidising species. Our results suggested that this was the case. Thus, it could provide advanced oxidation in water treatment.
Project Leader
Staff
Sponsors
Industrial Steering Group

Northumbria Water Ltd
Scottish Water

Dates
Identifying and quantifying diffuse pollution in abandoned metal mine catchments
Diffuse pollution does not arise at a single location on the earth's surface, unlike a point source, such as a discharge from a pipe. Rather, it comes from many locations across an area. Thus, diffuse sources of pollution are difficult to identify and measure.
We are exploring the best ways of identifying sources of diffuse pollution in river catchments. We are investigating how to quantify the amounts of pollution coming from them. We are working with the British Geological Survey (BGS) and Centre for Ecology & Hydrology (CEH).
We are exploring a variety of approaches to both identify and quantify diffuse sources of pollution. These include:
geophysical techniques
airborne remote sensing
intensive water quality and river flow monitoring
We can then determine the most important sources of pollution within any particular river system. This will allow well-informed decisions about which sources of pollution to clean up.
Academic staff

School of Engineering
School of Natural and Environmental Sciences

Researchers

School of Engineering
School of Natural and Environmental Sciences

Contact
Sponsors
Partners

British Geological Survey (BGS), Centre for Ecology & Hydrology (CEH)

Dates
LC TRANSFORMS: Low Carbon Transitions of Fleet Operations in Metropolitan Sites
LC-TRANSFORMS investigated demand for freight and travel in UK and Chinese metropolitan areas. We developed models to integrate goods and travel demands. Our tools model demands for urban mobility services and urban freights.
This is a UK-China consortium of three world-leading research institutions with track records in:
intelligent transport monitoring and system management
urban transport planning
traffic emissions
travel behaviour and electric mobility
We looked at the challenges of transitioning urban fleets towards lower and zero carbon operations. We identified the sources of risk and uncertainty affecting transitions to low carbon fleet operation. We investigated optimisation techniques to address the challenges of fleet decarbonisation planning.
We developed improved activity-based demand models. These integrated the demands for goods and travel, enabling joint analysis of fleet and goods services. We designed short term demand modelling tools for urban mobility services and urban freights. These tools enabled the quantification of short term demand flexibility.
We created an integrated strategic planning and operational management evaluation framework. This allows assessment of the level of service and the environmental and economic performance of fleet services.We investigated business models emerging from:
the electrification of fleet services
the exploitation of demand flexibility
We used in-depth case study analysis of specific fleet services in these investigations
We developed a greater understanding of the role of intelligent infrastructure in improving operational performance, including environmental performance, of fleet operations. We developed roadmaps for UK and Chinese metropolitan areas. These allow for gradual up-scaling of low carbon fleet operations. They can make a significant contribution in achieving local CO2 reduction targets.
Principal Investigator
Co-investigators
Researchers
Sponsor
Dates

2015-2019
Long term testing of short hydraulic residence time (HRT) passive water treatment systems
Passive treatment systems use chemical and biological reactions that occur naturally. But a key limitation is their large size. We could make the systems more compact by reducing the hydraulic resistance time (HRT).
Passive treatment systems are low cost as their operation doesn't need chemicals or energy. Instead, they use chemical and biological reactions that occur naturally. But a key limitation is their large size.
Such systems usually need to be large because the reactions that remove pollutants in these systems are quite slow. We could make the systems more compact by reducing HRT. This would make them suitable for treatment of more polluted waters, especially where there are land constraints.
This project is lab-based. We will identify treatment system substrates with suitable geochemical and physical characteristics. The substrates will thus enhance metal removal rates and enable a reduction in HRT and system footprint.
Academic staff

School of Engineering
School of Natural and Environmental Sciences

Researchers

School of Engineering
School of Natural and Environmental Sciences

Contact
Sponsors
Dates
Monitoring and optimisation of the Force Crag metal mine water treatment system
The Force Crag mine water treatment system was the UK's first fully passive large-scale treatment scheme. It removes pollutant metals from mine drainage.
Passive treatment schemes do not use energy or chemicals.
Force Crag Mine is an open access area in one of the UK's most popular National Parks. It has Scheduled Monument and Site of Special Scientific Interest (SSSI) status. It was a major source of pollution to local waterways. To treat the metal rich mine water, we constructed a full-scale passive mine water remediation scheme.
We carried out the process design of the system following lab- and pilot-scale trials. The project developed understanding of the exact nature of biogeochemical reactions. We investigated how hydraulic factors and changing environmental conditions influence those processes. We identified the best operating conditions for the maximum removal of metals from mine drainage.
Our research will inform the design of future treatment systems.
Academic staff

School of Engineering
School of Natural and Environmental Sciences

Researchers

School of Engineering
School of Natural and Environmental Sciences

Contact
Sponsors
Partners

Environmental Agency, National Trust

Dates
Potassium: closing the loop
Potassium is a widely used fertiliser in agriculture. Global shortages will affect future food production across the world. To meet an ever-increasing demand, we need to manage global potassium production sustainably.
More than 90% of mined potash goes into fertiliser production.
We are investigating potassium and other non-renewable resources for food production in the UK. We are looking at the life of these resources from extraction to transport and use. Our research shows a need for more effective monitoring of mineral supply chains for agriculture. Cities are responsible for the majority of global consumption. Thus, this is especially true in providing sustainable food sources for cities.
Principal investigator
Academic staff

School of Natural and Environmental Sciences
Newcastle University London

Researchers
Dates

February 2017 to March 2018
Providing the last piece of the puzzle: completing our understanding of the unusual redox buffer behaviour of clay minerals
We already have a deep understanding of how iron behaves in the octahedral sheets of clay minerals. This research has added to our knowledge of the behaviour of tetrahedral sheets.
Eawag initiated research on characterising the redox properties of clay minerals. We now have a much deeper understanding of processes in subsurface environments, including:
nutrient cycling
trace element mobility
organic pollutant transformation
This understanding has led to practical applications. For example, it has provided expert advice in assessing host rocks and buffer materials for radioactive waste storage. Clay minerals have a unique ability to buffer redox reactions over a large range of environmental conditions. This may originate from reversible changes in the redox state of iron in the octahedral sheet. Yet the role of iron in the tetrahedral sheets remained elusive.
Synthetic clay minerals with well-defined iron coordination have recently become available. We are investigating their redox properties. We are using a combination of electrochemical and spectroscopic methods. This research will complete our understanding of the redox buffering by iron-containing minerals in soils and groundwaters.
Newcastle Project Leader
Project Lead
Staff

Fabien Baron (visiting researcher from University of Poitiers)

Sponsors

Eawag discretionary funds

Partners

ETH Zürich, Switzerland; University of Poitiers, France; Pacific Northwest National Lab (PNNL), USA

Dates
Smart reactive sorbents for the removal of emerging contaminants
Contaminants of Emerging Concern (CECs) are a growing concern. Current water treatment facilities are unable to completely remove or transform micropollutants.
Emerging contaminants are a threat to our water resources. We investigated the performance of new, smart reactive adsorbents in removing this threat. We tested the use of functionalised clay minerals.
We combined approaches from two different fields of research. We enhanced the redox reactivity of cheap and abundant natural clay minerals. We also modified them with modern, environmental friendly ionic liquids. This provides a sustainable solution for micropollutant removal from aqueous solutions.
Project Leader
Staff
Sponsor
Dates
Tailored treatment for fats, oil and grease
Accumulation of fat, oils and grease (FOG) is a major problem for wastewater management in many major cities. Investigating the environment within sewers where FOG accumulates will help us to come up with solutions to this problem.
FOGs enter the wastewater system from both domestic and food establishment sources. The UK has had several high-profile blockages. The blockages are known as fatbergs.
We are investigating the microbiome of fatbergs and their lipid content. We are isolating and characterising lipid-degrading bacteria. These bacteria show promising results in the degradation of FOGs in synthetic wastewater.
Academic staff

Professor Catherine Biggs (School of Engineering)
Dr Graham Stafford (University of Sheffield)
Professor Vanessa Speight (University of Sheffield)
Dr Raffaella Villa (De Montford University)

Researchers

Ms Elizabeth Court (University of Sheffield)

Sponsors

EPSRC
University of Sheffield

Collaborators

University of Sheffield
Thames Water

Dates
ToOLTuBES: Toxicity and Organic Load Tracking using BioElectrochemical Systems
The ToOLTuBES project will develop a real-time water quality biosensor.
We are working towards technology readiness level 7. TRL 7 specifies demonstration in an operating environment at pre-commercial scale.
BES (BioElectrochemical Systems) technology incorporates an electrode-supported microbial biofilm. It generates electricity from oxidation of organics. It has great potential for low-cost, real-time sensing applications.
The magnitude of the electrical current generated correlates with the organic loading. Toxic compounds inhibit the signal. The sensor will monitor organic load and toxicity levels in real-time on wastewater influent samples. We will use samples from a real-world wastewater treatment plant (WWTP). We will collect long-term monitoring data over two years. We will use the data to inform design and cohesion of a combined sensor package. This will propel the technology towards commercial realisation.
Academic staff

School of Natural and Environmental Sciences
School of Engineering

Researchers

School of Natural and Environmental Sciences

Contact
Sponsors
Partners

University of South Wales

Dates