Research Group: Materials, Concepts & Reaction Engineering
Our world is facing major technical challenges. We deliver innovative solutions.
We combine expertise in chemistry, materials science, and chemical engineering to find solutions for emerging global technological challenges. We develop new materials and innovative reaction engineering concepts by designing new membranes, chemical looping materials and catalysts.
Our team, which comprises lecturers, research fellows, postdoctoral research associates, and PhD students applies new materials, transformative concepts, and creative reaction engineering to:
carbon dioxide separation
hydrogen production
ammonia synthesis
methane conversion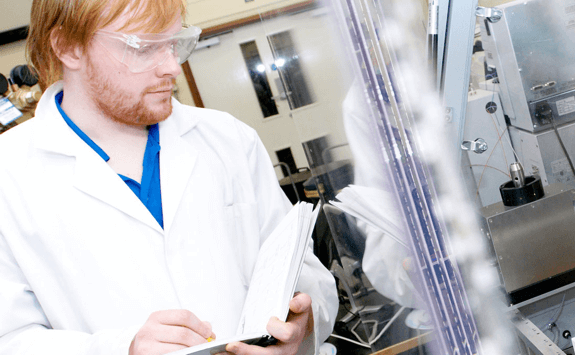 Reaction engineering research
We focus on designing new ion-conducting materials. We then characterise them, and their interaction with the gas phase, to develop novel concepts in membrane separations, chemical looping cycles and heterogeneous catalysis.
For example, ion-conducting membranes undergo gas-solid reactions. These reactions complement the transport of charger carriers within the membrane, leading to gas permeation. Similar fundamental processes are critical in the function of a chemical looping cycle and particular catalysts.
We then exploit our fundamental understanding of materials for new reaction engineering concepts in lab-scale reactors. We explore processes including carbon dioxide capture, hydrogen production, ammonia synthesis, methane conversion, and automotive emissions control.
Cutting edge
We are at the cutting-edge of reaction engineering as we aim to cover the full value chain – materials, characterisation, processes, modelling and reactor engineering – so that we can bring fundamental discovery science to real-world application.
Many high-impact journals have accepted our papers for publication, and we are developing pilot-scale processes based upon our lab-scale investigations.
We receive generous funding from:
the Engineering and Physical Sciences Research Council (EPSRC)
the Royal Academy of Engineering under the Chairs in Emerging Technologies scheme and the Research Fellowship scheme
We have also received support from UK and European institutions and industrial partners.
Materials
We study oxygen-ion and electron conducting solids infiltrated with molten salts. This combination of materials allows us to develop new highly-selective gas separation membranes. In Energy and Environmental Science, we demonstrated that this emerging class of membrane, the supported molten-salt membrane, has outstanding performance.
We also exploit ion-conducting properties in chemical looping processes. In Nature Chemistry, we described an entirely new approach to chemical looping, based on the properties of a non-stoichiometric perovskite.
We also study catalysts prepared by exsolution, where a metal is exsolved from a perovskite. Co-electrolysis and catalytic applications use these materials. They have enhanced activity, stability, and coking resistance.
Characterisation
We investigate the structure and stability of supported molten-salt membranes. For example, we use X-ray micro-CT with collaborators to study the development of membrane structure in three dimensions. We also perform wettability measurements. These help us develop self-healing membranes.
We study our chemical looping materials during operation. We have spent significant time at beamlines to carry out detailed in-situ characterisation. We have also used X-ray micro-CT to track the structural evolution of a single chemical looping particle.
For exsolved materials, we use many in-situ characterisation techniques. These include synchrotron X-ray diffraction and environmental transmission electron microscopy (TEM). We apply these characterisation techniques in fundamental studies and for application.
Reactors
We design and operate many lab-scale membrane reactors. We couple these with our significant capabilities for gas analysis. We have also developed the first single-pore membrane reactor.
Our integral reactor is a unique lab-scale reactor. It allows us to test new chemical looping materials whilst accessing the bed with, for example, diffraction techniques. Coupled with our thermogravimetric analyser (TGA), we can test these materials over hundreds of cycles.
We also design lab-scale reactors to test catalysts for automotive exhaust catalysis, chemical looping combined with catalysis, and electrolysis.
Teaching
Taught Programmes
From day one, our Chemical Engineering Undergraduate Programmes give students a path to become a professional engineer addressing major global challenges.
Our Postgraduate Taught (MSc) Programmes equip students with the advanced skills and expertise to help shape the world.
PhD and research fellowship opportunities
Funding at Newcastle University
Newcastle University provides funding for postgraduate studies. The Faculty of Science, Agriculture and Engineering runs a wide range of schemes and programmes of Doctoral training. There are many more opportunities online.
NUAcT
The University provides an academic track fellowship scheme. NUAcT is open to both internal and external applicants, from all over the world.
Supporting your application for fellowship
We are always interested in supporting fellowship applications for strong candidates. You can find fellowship funding from external institutions such as:
EPSRC
Royal Academy of Engineering
Royal Commission of 1851
UKRI
If you want to join us from a non-UK country, a variety of institutions offer funding, such as:
Newton International Fellowship
Marie Sklodowska-Curie European Fellowship
Marshall Scholarships
Contact us
Get in touch with our Head of Group, Prof Ian Metcalfe, or any of our staff to discuss how we can collaborate in our education or research activities.