New for 2022/23: structured reflective templates
The Templates area of NU Reflect has been developed to offer reflective templates to support structured student reflection. You can choose from a selection of predefined structured templates or create your own bespoke templates, and accompanying guidance text, for use within your programme/module context.
The templates support students to write qualitative, impactful reflections in different context, e.g., for personal development, against course specific competencies, etc., and the guided process provides a way to engage with reflection, leading to a developed understanding of the reflective process and more autonomy to engage with it throughout the learning journey.
How do I access the Templates area?
The Templates area can be found under the My Learning tab.

Templates that are available to students are accessible from the drop-down menu.

Where can students find guidance on using each template?
Each template has an information icon, which provides information on the purpose of the template, as well as guidance on how to use it. Creating a bespoke template provides you with the option to add guidance text, which could also include images, or links to give additional context.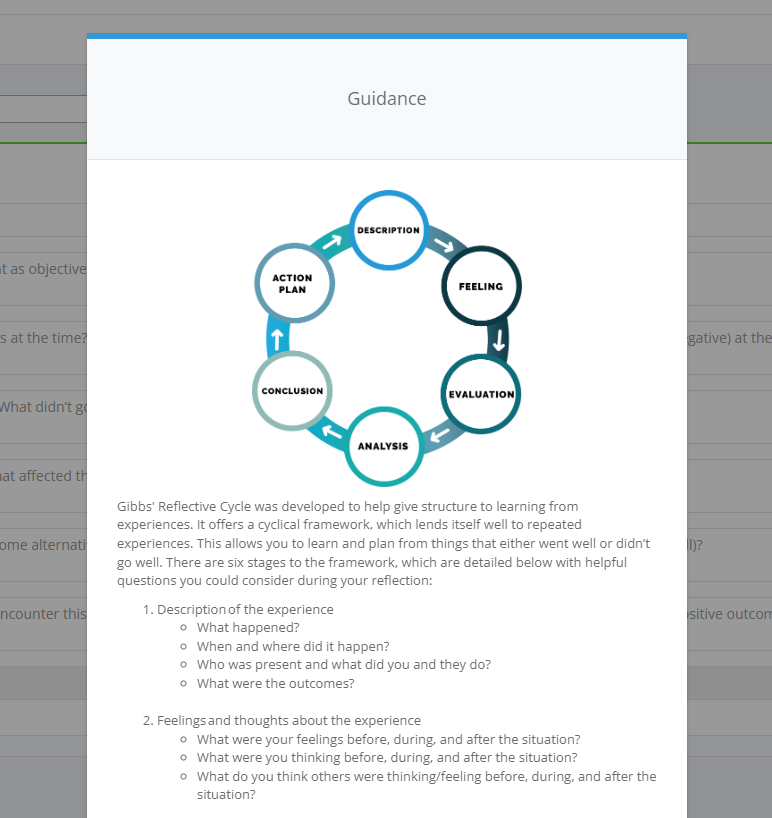 How do students write reflections using a template?
Whilst using templates, students will write their reflection in the space provided next to each heading, using the guidance text/questions in each heading as a prompt.
Once saved, the reflection will be stored within the My Stuff area in the same way an unstructured reflection is saved.

How do I create a bespoke template?
You can create a bespoke template for your programme/module context in the Templates area by clicking on the '+' icon. Here you will be able to add headings, add guidance text, and apply the template to a programme/module of your choice.
For step-by-step guidance on creating a bespoke template, please see the guides on the following page.