In Conversation With Gabriel Moreno Whitehead
23 March 2022
Gabriel Moreno Whitehead is a driven and dynamic Marketing and Management graduate, who has recently been awarded funding from the University's START UP fund to further develop his business venture.
Before beginning his studies, Gabriel had a start-up idea in mind in partnership with his father Alex Moreno. Throughout the degree, Gabriel and his father worked on transforming their idea into reality with their eco-friendly business, Fiquetex.
Fiquetex is a textiles company which produce materials from the fique plant, a traditional plant found in Latin America. Fiquetex offers a stylish and environmentally friendly solution to other fabrics. The company creates cotton and leather like fabrics, which only uses 10% of energy compared to everyday fabrics. A standout feature of the fabrics is how versatile they are; Fiquetex fabrics can be used for many purposes from kitchen products to footwear.
With the support from the University, Gabriel has recently been awarded funding from START UP. The START UP Fund aims to help alumni and current students who have a genuine need to help the business in their early stages. The funding is in partnership with Santander, where the awarding business' receive grants of up to £3000 in total. Alongside this, applicants for the funding receive one-to-one support and coaching to advance their enterprises to grow and develop.
Gabriel shared his experience of how START UP has helped Fiquetex reach the next steps in their goal to be a sustainable solution for the future of textiles.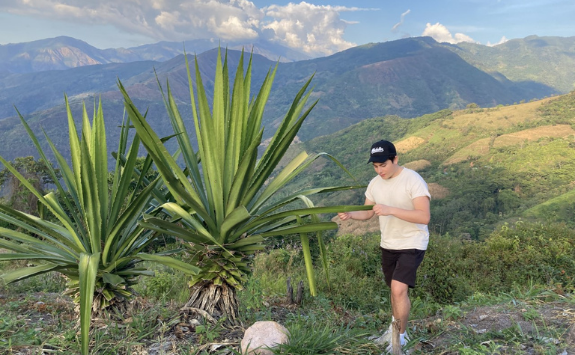 I found START UP after graduating from the Marketing and Management BSc. Fiquetex had won awards and I emailed many departments at Newcastle University for ideas and advice, including sustainability, business society and the science department for support. It was the Careers Service who run START UP that got in touch and we arranged to meet, which has now developed to monthly meetings.
The START UP Team gave me advice, contacts and the opportunity to attend events through the service. Due to the support from the team and their networking events, I was able to meet and connect with Dr Alan Lowdon who put me onto the Global Entrepreneur programme. The scheme is set up by the British government and offers free support and advice for international start-ups which they deem as full of potential.
The programme delivered by the START UP team was great, efficient, and quick. They provided useful pitching advice as well as guidance and demonstrations. The team were friendly and asked great questions which made me think about aspects I hadn't thought about. I recommend the service to anyone that wants to give it a go, you have nothing to lose.
The team were friendly and asked great questions which made me think about aspects I hadn't thought about. I recommend to anyone that wants to give it a go, you have nothing to lose.
I enjoyed my four years on the Marketing and Management BSc at Newcastle University Business School. The course offered modules about starting a business and coming up with ideas, so I was able to present Fiquetex on multiple occasions which was good for business development. The entrepreneurial type activities were beneficial and useful in the development of Fiquetex.
I was always interested in marketing and this degree helped me, develop the skillset regardless of what happens in the future.
During my degree, I had a placement year in Barcelona working in the Marketing department for a finance company. They were happy with my work so when I returned to Newcastle for my third year, in 2018, I had the opportunity to work for them in a freelance position, something I still do today. That has been a great outcome from the degree. Now I have 5 years' experience in a highly recognised finance company. I have learnt a lot, including how to work across teams, time zones and cultures. That wouldn't have happened if it wasn't for the Marketing and Management BSc.
With the START UP funding, I have been able to return to Columbia. I have been able to make product catalogues to use when pitching at new clients, as well as attending a few events and meet farmers who grew fique. All things necessary to help with the supply chain. We are four months away from being production line ready.
My advice for current students is that the most important thing is to network as much as you can. You can learn at least one thing from everyone. You should never think there isn't any point talking to someone, everyone has at least one thing they can teach you. It will help you grow and learn how to work together. It is amazing how many people want to help and offer advice.
Your network is your net worth, as they say.
Discover the employability support from our dedicated careers consultants available to NUBS alumni for up to three years after graduating.