Business School alum wins prestigious Queen's Award
2 December 2021
Former Newcastle University Business School (NUBS) student, Erin Graybill, and her company, Luxe England, have been awarded the prestigious Queen's Award for Enterprise 2021 in International Trade.
The Queen's Awards
The Queen's Awards for Enterprise are the most prestigious awards for UK businesses and is a globally recognised royal seal of approval for UK companies. The long-standing awards have been presented to over 7,000 companies since its launch in 1965.
The Queen's Awards for Enterprise are for outstanding achievement by UK businesses, with the International Trade Award identifying businesses who have demonstrated substantial growth in overseas earnings and commercial success within their sector.
The Award was presented to Luxe England in November to acknowledge the business' rapid growth and development in overseas sales over the last three years.
An award-winning business
Luxe England's Founder and Managing Director, Erin Graybill, who studied International Economics and Finance MSc at NUBS, established her Newcastle-based company in 2015.
To win The Queen's Award, businesses must exhibit strong corporate social responsibility. Erin's small British business is built on ethical principles, designing and selling a range of socially responsible beauty and lifestyle products, through earth-conscious pamper hampers.
The hampers are hand packed by Paperworks, a charity in Leeds dedicated to supporting adults with learning difficulties and complex needs. Luxe England also supports the social enterprise, 1 More Tree, by donating a portion of the proceeds from each hamper purchased.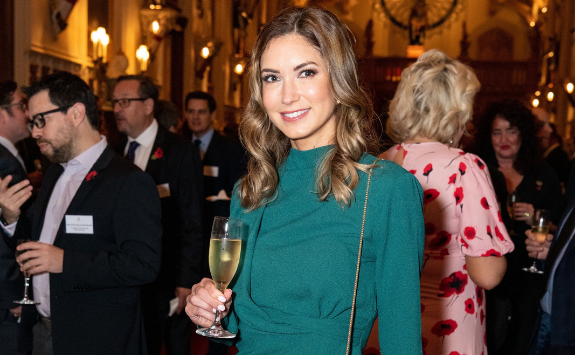 I will always be thankful for the education and support I got from my lectures at Newcastle University, it provided the perfect start on my entrepreneurial journey.
Rigorous judging process
The Awards are government-funded and there is a rigorous judging process for all applicants:
Applications are first shortlisted by a team of independent assessors.
Those who are shortlisted are examined by a relevant judging panel.
A list of recommendations is then sent to the Prime Minister for consideration before finally being submitted to Her Majesty the Queen for her personal approval.
The Award is valid for five years and businesses can use the esteemed Queen's Awards for Enterprise emblem on their marketing collateral and product packaging in that time frame.
A high achiever from the beginning
Senior Lecturer in Economics and Director of Post-Graduate Research, Dr Sara Maioli, speaks highly of her former student: "I met Erin in 2009-10 when I taught her during her MSc in International Economics and Finance and I also supervised her. It was a delight to have her in class, she was smart and a high-achieving student.
Sara also supported Erin when she applied for the prestigious ERSC- ESRC-funded NINE DTP scholarship which she won. Erin started Luxe England alongside her PhD, but due to the success of her business, Erin decided to withdraw from the PhD and practiced international trade instead.
We might not have another academic in international trade, but we certainly have a successful young woman entrepreneur with this brilliant achievement! Erin is such a strong, humble and determined woman, an example of what amazing things women can achieve.