MBA students help Northumbrian Water Group to meet their Net Zero Carbon commitments
5 August 2021
Putting theory into practice is an essential part of the learning process, particularly in preparation for future jobs and working environments.
The Business School's MBA programme offers many immersive experiences, including the annual case competition, in the second phase of the MBA. This runs as part of the Business in Action module and assists students in the development of their self-awareness, problem-solving, team working and consulting skills.
Each academic year, the School offers corporate partners the chance to get involved in this competition. Participating organisations provide students with a brief for a business challenge, giving our learners the chance to explore real world business opportunities. For our students, this reinforces learning across the programme while integrating relevant topics affecting businesses today. Students are especially engaged in challenges supporting the development of improved sustainability initiatives, which Newcastle University is also committed to evolving and promoting. For organisations, they are provided with the prospect of gaining useful outputs and business recommendations from a talented pipeline of experienced and innovative future leaders.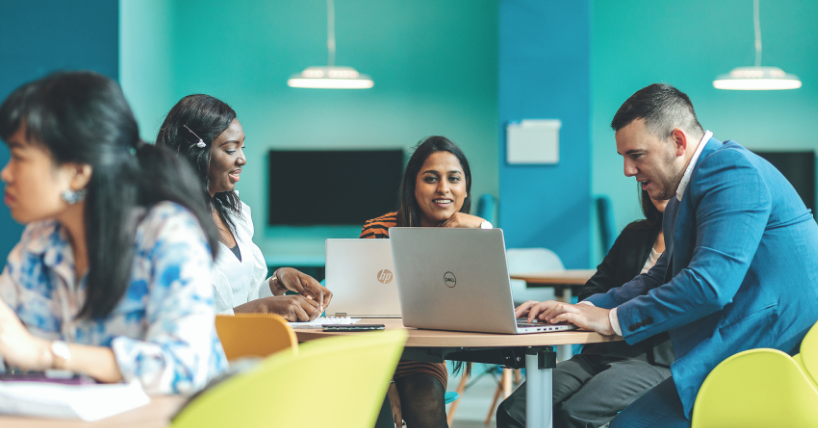 Jo Clark, Module Leader, explains: "The case competition is one of many opportunities we've created for students to benefit from a range of exciting networking and learning experiences outside of the classroom, allowing them to apply their extensive new academic knowledge and previous experience. For businesses it presents an opportunity to meaningfully engage with students from a range of backgrounds and industries, equipped with contemporary expertise and skills to solve tangible business problems. Through resolving a current business issue, MBA students offer organisations their refreshing, well informed, external perspective. Acting as external advisors, students compete to deliver the most valuable recommendation."
This year, our MBA students were able to work alongside industry giant, Northumbrian Water Group (NWG). They worked on developing a long-term stakeholder influence strategy to support the organisation to deliver a greater proportion of nature-based solutions, helping NWG to meet its Net Zero Carbon 2030 commitment.
Students were split into four groups and were able to consult and meet directly with NWG to discuss business needs in relation to the brief before carrying out research, developing proposals and putting together final presentations to be assessed.
During a period of seven weeks, each team worked together on the challenge and provided creative solutions. They were encouraged to identify relevant context and sources through thorough research and findings and come up with innovative and original resolutions for the judges. The judging panel consisted of engineering representatives, HR representatives and NWG suppliers, Stantec, as well as academic assessors. The awards were split between 'Overall Winner', 'Innovation', 'Teamworking' and 'Supporting Sustainability' to identify and recognise teams that met different and important aspects of business solutions for the challenge.
Mac DSilva, one of the MBA students who took part, said: "It was a unique experiential learning experience, as we got to practice the concepts we were exposed to during the course. We were also able to ideate solutions and work within the constraints and gain valuable feedback from industry professionals. Moreover, as some of the team members are still in China, we had to work around different times, which helped us in planning, prioritisation, and delegation, in a way preparing us for the future of work."
This year's Business in Action module was a success for the students and our corporate partner, NWG. Relevant outputs and recommendations made by the winning students will be further researched by NWG, with the possibility of putting our MBA students' business proposals into action.
High calibre students
Erin Price, Head of Talent and Training at NWG said: "Northumbrian Water Group is passionate about providing meaningful work experience for people, and working in collaboration with organisations in the regions we operate in. Working with Newcastle University MBA students on this project was hugely valuable. The high calibre of the students was evident from the insights and proposals they presented during the challenge. We will now be taking those proposals and incorporating them into our future plans."
Working with Newcastle University MBA students on this project was hugely valuable. The high calibre of the students was evident from the insights and proposals they presented during the challenge.
Being part of our immersive MBA at Newcastle University provides learners with real business experience and the likelihood of becoming part of the next generation of leaders. At the same time, our corporate partners play a role in consolidating student learning through real challenges faced by businesses today, while benefitting from helpful recommendations through their hard work and research.
If you are interested in our MBA, you can read more about the modules, entry requirements and how you can apply to be a part of our 2022/23 cohort, here. If you would like to get in touch about participating in similar future projects as a corporate partner and making a difference to our student's futures, please send us an email.
As a university, we are committed to sustainable business development and work closely with our partners and students to move into the future together.