Recognition of refugees' skills just as important as empathy
24 June 2022
Research led by Newcastle University Business School highlighted that both the refugee employee and manager had the greatest success when managers took a pragmatic approach to employing a refugee or asylum seeker. This approach is one that combines a recognition of a person's existing skills and knowledge and the value this can add to the company but balances it with providing additional support when it is requested as well as ensuring there are opportunities for them to develop their professional capabilities if they wish.
Refugees said they preferred to work for these managers as they valued them for their skills and work performance but also recognised when they needed to show empathy and compassion. These managers were the most successful at motivating their staff and inspiring confidence.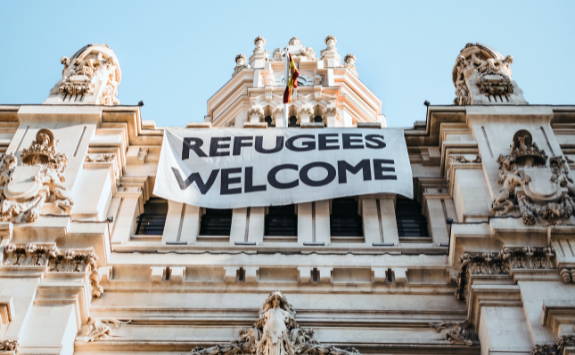 By contrast, the research highlighted cases where managers are solely driven by a sense of duty to take care of refugees and wrongly assume that they need to prioritise their welfare above all else. These managers saw their employee as a passive victim of the disaster or crisis that forced them to leave their home country, and unintentionally undermined the person's ability to make their own choices about how to do their job.
In these cases, managers focused on providing charitable aid such as help with paperwork related to a claim for asylum or assisting with finding a flat or registering refugee employees' children in school rather than ensuring there was any workplace training or giving feedback on their performance to support their career development.
The research was carried out with 127 refugees, mostly from Syria, Afghanistan, Iraq and Iran, their supervisors and colleagues, as well as chief executives and HR managers in 28 organisations in Germany, ranging from entrepreneurial craft businesses to large companies. In addition, the research team spoke to representatives of non-profit organisations involved in refugees' workplace integration, such as teachers at vocational schools or refugee support networks and organisations.
Dr Robin Pesch, Senior Lecturer in International Management at Newcastle University Business School, explained: "Some employers think it is enough to provide refugees with any sort of employment and don't take time to understand the skills their employee brings to the organisation. They end up regarding their refugee employees as social projects rather than as members of staff who are able to make their own decisions about their work and their wider participation in society.
"But allowing refugee employees to make their own decisions about how to engage in company life and providing support when it is asked for improves their self-reliance and supports refugees and asylum seekers in making a life for themselves in their new country."
The research also highlighted a third, smaller group of cases where managers acknowledged the skills and knowledge of the employee and the contribution they can make to the organisation but did not pay attention to the challenges they face as a result of having been forcibly displaced, such as difficulties adjusting to life in a new country or mental health issues that stem from their experiences.
Allowing refugee employees to make their own decisions about how to engage in company life and providing support when it is asked for improves their self-reliance and supports them in making a life in their new country.
This group of managers focused on the risk that the refugee employee could become a burden so emphasised the traditions and customs of the host country and organisation that they expect the refugee working for them to follow to enable workplace integration.
The research team, which also involved academics from San Francisco State University, United States and the University of Victoria, Canada, have developed a set of best practice guidelines for managers and employees to encourage more companies to adopt good workplace integration practices.
Among the recommendations made, they suggest that managers should offer only the support that their refugee employees ask for. They also recommend that refugee employees be proactive in making their managers aware of their unique capabilities and tell their supervisors if they feel overwhelmed by any measures introduced with the intention of helping to integrate them in the organisation.
The United Nations High Commissioner for Refugees (UNHCR) estimates that at least 89.3 million people worldwide were forcibly displaced at the end of 2021 as a result of persecution, conflict, violence, or human rights violations. In its latest Global Trends Report, it says Germany hosted the third largest population – almost 1.5 million, with Syrian refugees and asylum-seekers as the largest group (44 per cent).
Reference: Robin Pesch, Ebru Ipek, Stacey Fitzsimmons. 'Be a hero: Employ refugees like a pragmatist.' Organizational Dynamics. DOI:10.1016/j.orgdyn.2022.100912