Business School Peer Mentor leads her team to victory at the UN Sustainable Development Goals Challenge
15 February 2021
Newcastle University Business School is delighted to announce that the winner of the UN Sustainable Development Goals (SDG) Challenge was awarded to Tharika Gunasekaran and her team of mentees (Jingfei Zhai, Matthew Cooper, Jie Rao, Aaliyah Levy, Gabe Ammar, Joel Walker, Izzy Dixon, Joel Dormenyo, Callum Woods, Lauren Milford and Maggie Tong) at the Peer Mentor virtual Awards Event on Wednesday 03 February. Tharika led her team in developing an excellent plan to promote 'A fight for zero hunger,' and presented an insightful infographic which managed to secure the first place.
UN Sustainable Development Goals Challenge
View the infographic - Zero Hunger Infographic‌‌
Regarding the win, Tharika commented, "Winning the UN SDG contest still feels surreal. The encouragement and recognition I have received since then has also really inspired and motivated me to seize more opportunities like this to not only develop my skills and knowledge but to also grow as a person. I am absolutely thankful for Newcastle University for giving myself and my team the opportunity to take part in this contest."
The SDG Induction Week Challenge is open to Peer Mentors and their mentees, which is designed to not only raise awareness of the UNSDG amongst students but also mainly to give Peer Mentors and their new mentees an opportunity to focus on something, work together as a group and most importantly help them to bond and make friends with students across year groups. With most learning being online this year, the Business School thought having something like this was a great way for students to make friends and feel like a part of the University community and their School.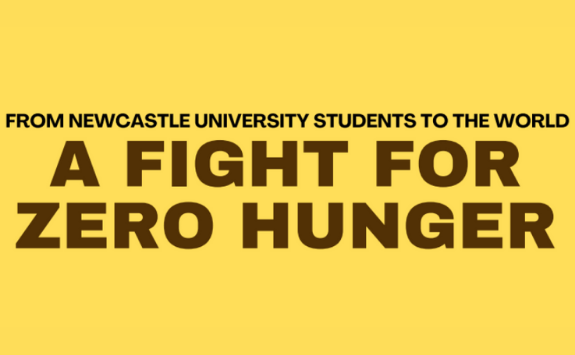 The challenge involved the students creating a plan to combat an issue relating to one of the 17 goals laid out by the UN on Sustainable Development. Meeting UN Sustainable Goals has become an ever-increasing priority for the University and School, with the UNSDGs becoming "an important frame for our teaching and learning and offering a meaningful application of knowledge gained in the classroom in a practical context." Matthew Brannan, Deputy Director of Newcastle University Business School.
Collaborative working
The Peer Mentors and their mentees had to work collaboratively at a distance and presented their plans to a judging panel headed by Naomi Oosman-Watts, Head of Student Strategic Projects.
Speaking of the team's achievement, Matthew added, "This is a really fantastic achievement and I know that the competition will have been especially tough. Peer mentoring is such an important aspect of the student experience at Newcastle, and I'm delighted that this has given Tharika and her team a platform to work collaboratively to tackle issues that are of global significance."
It was an exciting chance to contribute to sustainability-related issues and behaviours, but to also engage in creative problem-solving to overcome these issues within our campus.
A further achievement of the night was awarded to Newcastle University London (NUL) who managed to secure 4th place.
Newcastle University Business School is currently recruiting for Peer Mentors for 2021/2022, find out more.