How women are fuelling the passion for business at Newcastle University Business School
8 March 2022
In this special interview for International Women's Day, we hear from Captured 'Your Enterprise' participant, Maria Barradas, about her business, Goreti, a vegan Portuguese cafe.
A home takeaway service started during lockdown has grown into one of North Tyneside's newest eateries thanks to the support of a new all-woman enterprise programme.
Goreti is a vegan Portuguese cafe that opened its doors in November 2021 following support from the Your Enterprise scheme, a version of Newcastle University Business School's successful small business development programme Captured, tailored exclusively for women in partnership with The Millin Charity.
Soul food brings home the (fakey) bacon
The seeds for her business idea were sown for Goreti owner Maria Barradas almost 20 years ago when she needed to find and create recipes suitable for her son, now 18, who has the auto-immune disorder coeliac disease, meaning he can't digest gluten, as well as severe allergies to other foods including eggs, dried fruit, nuts and dairy.
She explained: "Food is very important to our mental and physical condition. I used to be a support worker in a care facility working with teenagers with challenging behaviour, so I also understand from my time in that role how influential food can be."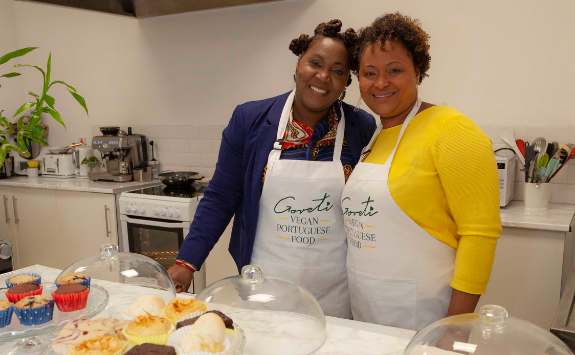 Always coming up with new recipes and with a degree in hotel management gained in the Algarve, Maria, who became vegan four years ago, felt she had a strong personal reason to start in business, and turned to The Millin Charity for help.
The charity, which operates from enterprise hubs in Newcastle and Gateshead, provides holistic support to the women of Newcastle and Gateshead to help them towards financial independence, through accredited courses, practical employability support, confidence-building and the encouragement, products and services provided by its vibrant community.
Community Development Worker Kirsty McDine-Daniels said: "We help remove barriers. We're there to be a friend and to listen, and to help women thrive in a safe environment."
A listening ear and an open door
It was on one of Millin's online enterprise workshops that Maria first heard about Your Enterprise, which came about after The Millin Charity became involved with Newcastle University Business School.
Kirsty explained: "Initially, we collaborated with the Business School on a project where some of the women we were working with took part in a 10-week course, funded by the university, to design artwork for corporate gifts. One of our coordinators on this project was on the Captured course at the time, and we recognised this method of delivery would suit many of the women we support, particularly those that may not ordinarily picture themselves learning in a university environment."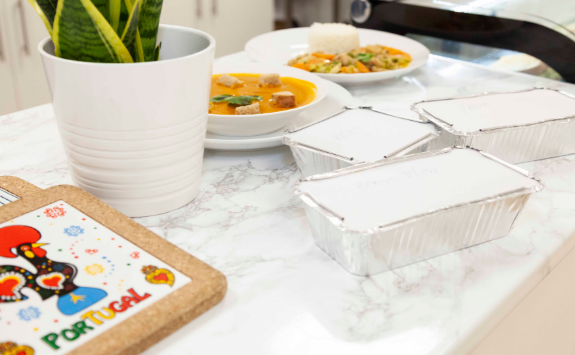 Like Captured, Your Enterprise, which is partially funded by the Newcastle University Economic and Social Research Council's Impact Accelerator Account, assigns each participant an individually-matched mentor from a larger business to work with throughout their time on the course, but sometimes these relationships far exceed its duration.
Not only that, but Your Enterprise alumna are invited to become part of the wider Captured community, which enjoys regular masterclasses delivered by business owners that have received support from the Business School, and has an active Facebook group.
Bounce an idea and make it brighter
Senior Lecturer Fiona Whitehurst, who is the project lead for both Captured and Your Enterprise, said: "The beauty of the model is that it enables both peer learning and support, and the opportunity for business owners, wherever they are on their business journey, to gain objective expertise from mentors within larger and more established organisations, encouraging sustainable enterprise in one of the country's less prosperous regions.
"Participants can then remain as involved in the community as is right for them, but the support is there, and we encourage and can facilitate collaboration between the small businesses as they grow."
Fiona's colleague, Jo Singh added: "We're very supportive of The Millin Charity's work and were keen to work together to support female business owners in particular, so we developed Your Enterprise to support those women that Millin works with who are starting to trade or have already established their business.
"Part of Your Enterprise is the recognition that these aren't just ideas – they're businesses, and it's been fantastic to see the women reflect their sense of self-worth in setting and raising their prices and building new brands."
The pilot programme, which will run again this spring and will hopefully become a permanent fixture on the Business School's calendar, was entirely women-led, with mentors coming from backgrounds as diverse as technology and manufacturing, retail, HR and finance.
Others on Maria's cohort included those establishing businesses in cake-making, arts and crafts, creating natural hair products and making soap.
Maria's mentor was career and leadership coach and social enterprise founder Victoria Orr, who remains a valuable confidante to her, the pair speaking regularly to sound out business ideas and come up with new areas of focus and improvement.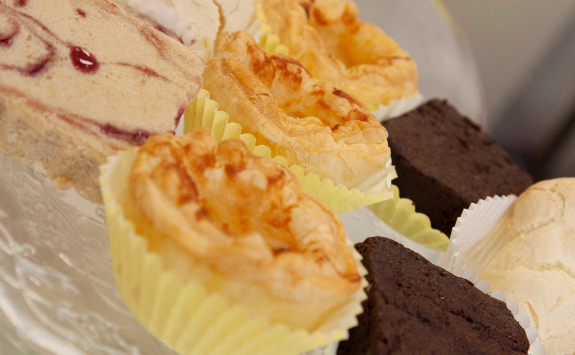 A mum of two boys, Victoria, who has gained professional experience on four continents with brands including Amazon, Marriott and qualification provider NCFE, founded Amandla Ubundu Ltd to support artists, crafters and other makers, sustainably shipping their work to UK customers and ploughing 50 per cent of her profits back into the business, as well as to a women's shelter in Cape Town.
She said: "I'd never heard of The Millin Charity before becoming involved in Your Enterprise, but I liked the fact the focus was on women that might have had a tougher time than most, and that support was designed to help them be more self-sufficient."
A match made in heaven
Having both been single mothers originally from Africa, Victoria feels she and Maria were particularly well-matched by the team at the Business School, where she'd originally guest lectured on the MBA.
She said: "I intended to take a career break but am not very good at sitting still. I've quite an altruistic nature and worked for a long time in senior leadership roles. I also have a strong sense of wanting to give back, and a strong sense of community, so The Millin Charity's involvement in Your Enterprise was part of the appeal behind getting involved.
"I'm very interested in leadership and careers coaching to address the underrepresentation of women in leadership. And Maria has a really good genuine story and reason for starting up her business, and that's powerful."
Victoria and Maria keep in touch via WhatsApp and by phone, with Victoria acting as a useful sounding board even after Maria's participation in Your Enterprise, which had to pivot from planned face-to-face delivery to online-only at short notice after the outbreak of Covid-19.
Multi-lingual Maria, who also lived in the USA briefly before settling in the UK and ultimately, Newcastle, said: "Victoria has been really helpful to me, helping me identify and understand my weaknesses, and making useful suggestions to help me reach more people about my business."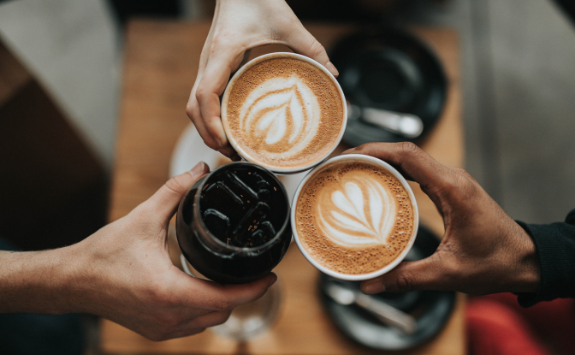 Although her involvement in the programme and business launch coincided with the pandemic, Maria, who is running Goreti with the support of family members but has no staff and continues to do most of the cooking herself, as well as all the marketing and menu planning, was characteristically determined and used the enforced lockdowns to achieve her necessary food hygiene qualifications, as well as for business planning. Part of this, Your Enterprise is delivered via small-group sessions with each cohort developing their respective businesses through planned reflective exercises, as well as through the sharing of ideas, experiences and challenges.
Galvanised by her experience with her son, as well as her own diagnosis of hypothyroidism, Maria's food philosophy is centred around using organic ingredients to nurture health, and there's no doubt that passion is the most vital ingredient in Goreti's success so far.
She said: "When I lived in Portugal I'd travel to Spain to get the right ingredients, and have kept both my own health and that of my son stable."
"Women need to nourish every opportunity; they don't necessarily recognise themselves as 'business owners' so Your Enterprise is very accessible to them.
When women support women, incredible things happen
Adding her own personal touch to all her recipes with inspiration from her native Cape Verde, Maria scours YouTube on a daily basis for ideas, and continues to offer her menu to takeaway customers as well as those choosing to dine at the cafe premises in The Forum Shopping Centre, Wallsend. Many customers have followed the business, which also received financial support from PNE Enterprise through the Job Centre, from its very beginnings in Maria's kitchen at home, Maria spreading the word through Facebook and Instagram, and she describes opening the cafe less than a year after starting the course as a dream come true.
She said: "I'd recommend Your Enterprise. It's helped me out a lot."
Similarly, Victoria enjoyed the opportunity to meet people she may not have done otherwise, and would encourage other people to come forward as mentors.
She said: "It's nice to be able to make a difference and share skills and experiences; I think it's important women are supportive of each other's work and lift each other up. Being part of Your Enterprise is a great way of doing that."
Your Enterprise, which offers a creche facility to participants, is due to begin at The Millin Charity's Greenesfield premises in Gateshead shortly. To apply to be part of a future cohort, contact Kirsty at kirstym@themillincharity.co.uk. To become a mentor, or to find out more about the enterprise support available through Newcastle University Business School, visit Captured website.
About the author
This article was guest authored by Jule Wilson, a Chartered Communications Consultant and Photographer. Jule was part of the Business School's Captured programme and recently won CIPR North East Independent Practitioner of the Year 2021.