Meet Newcastle University Business School's new Dean: Stewart Robinson
25 November 2022
Professor Stewart Robinson was appointed to his new role as Dean of Newcastle University Business School in July of this year, joining us from Loughborough University where he was Dean of the School of Business and Economics.
We wanted to welcome Stewart into the world of our alumni, to share his plans for the School with you and take a look at how you, our alumni, are part of the School's new direction.
Stewart's journey so far…
Stewart studied at Lancaster University where he originally planned on working in Maths but soon after starting his degree, changed his course to Operational Research, which he thoroughly enjoyed due to its practical focus on how maths could be applied to decision-making.
Following University, Stewart started his career at the British Shoe Corporation as a Business Analyst. After a year in this position, he moved roles and took up a position within the Operational Research team of the Rover Group, which offered consulting services and specialised in computer simulation, particularly modelling car production. The company eventually bought itself out of Rover and Stewart worked alongside many other organisations on big projects for companies including BT, British Steel and Ford. It was in this role that Stewart had his first taste of education, providing training courses in computer simulation for external organisations.
After six years, Stewart saw a role as a Teaching Fellow at Aston University on a three-year contract and decided to apply. With no academic experience and no publications, to Stewart's surprise, he was offered the role. This role was completely different to anything he had experienced and it gave him freedom and control of his own time and projects. Stewart learnt on the job and gradually picked up what a job in teaching and research entailed, and chose the theme of computer simulation as his specialism.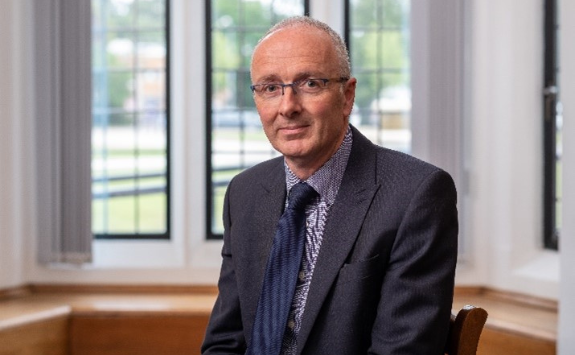 Stewart really enjoyed his first step into the education sector and realised if he wanted to keep doing this, he would need a PhD. Six years later, Stewart received his PhD certification from Lancaster University.
Following this, Stewart moved to Warwick University as a lecturer, where he spent 13 years and worked his way up within their Business School, progressing to Associate Dean and Head of the Operational Research Group.
This was followed by a move to Loughborough University where he spent 11 years as a Professor and a member of the before moving into the Senior Team in the School of Business and Economics. He was appointed Dean of the School in 2015. He left this role in 2021 to take a period of sabbatical. Having led the School through the worst of the pandemic, he explains: "Living through running a virtual business school in a pandemic was an interesting and challenging experience."
Stewart planned that following his sabbatical he would take up another leadership role, which was when the opportunity at Newcastle University Business School became available.
Joining Newcastle University Business School
When Stewart is asked how he is finding his feet in his new role and a new city, he had nothing but positive things to say. He commented: "I have enjoyed the last few months and everyone has been very welcoming. The three months have been spent primarily learning about the University, School and region and getting to know how the School functions, its strengths and areas for improvement."
Read our interview with Stewart below to find out how he is finding his role at Newcastle University Business School, his plans to take the School forward and how he is settling into life in the North East.
What are the School's future ambitions?
We want to start from what we are good at. We have a good set of undergraduate programmes that do very well. We have a good set of postgraduate programmes but as a business school, we don't do enough for postgraduate level study.
Top business schools you will know from their postgraduate offering, and they have more postgraduate students. An ambition for NUBS is to grow our postgraduate portfolio. This is important as it is a prime driver of our international reputation.
The School's research base is strong, but we can develop it more. What I am particularly keen to do is think about how our research addresses the problems of today. Sustainability is a particular issue and is a strong theme. We can think more about how we link that to the problems of today and how we address those. This is one example of what we should be focusing on.
Universities and business schools are being asked what value they bring and this is an area where we most need to develop. The Government puts a vast amount of money into the Higher Education sector and by nature, are asking what they get from that. A lot of the money goes into research and we need to show the value that is produced from that research.
If you compare business research to medicine or engineering, it is easy to demonstrate how they create value through innovative 'products'. As a business school it is harder as we advance knowledge which is important for the economy, but how do you demonstrate it really is generating value?
We need to work out how we better take our knowledge outside the boundaries of academia and get companies, the policy makers, to use our knowledge to improve the economy and society. That is where the value comes from. We, along with the rest of the sector, need to get smarter and better at doing that. That is a big emphasis of what we will do.
Examples of where we could share knowledge with businesses and the community is through our Executive Education programmes, which is a direct route of sharing research straight from our Business School to others.
Can we also commercialise knowledge? For example, can we turn knowledge into an app, something people can use to make decisions to learn? We need to implement regular seminar series aimed at businesses and not just academia. This will involve getting our researchers to share with businesses what we are doing, but also for businesses to share what they need from us. That should direct our research and help us to understand what is needed to create great research that addresses the issues of today. It all interconnects, the way we do our research, deliver our teaching and the way we engage with organisations.
I think for me as an academic, some of the best moments are when I have found businesses using my research. I have a lovely quote from someone who wrote to me from the USA to thank me for my research which helped them on a multibillion-dollar project. They had been looking to crack a problem for the last five years and the research I had done helped them. It makes me think about how many other people may have read my work and used the research to help them, but I don't know about it.
For all of us as researchers, it is not just about the research, it is how it makes a difference. To make a difference requires a broad mix of skills, across disciplines and from a theoretical orientation and a practice perspective.
What can alumni and supporters of Newcastle University Business School do to support the School and its future ambitions?
Primarily it comes down to them engaging with us and us engaging with them. We want alumni to tell good news stories about us. Word of mouth is really important to us. If you ask students why they came here it is often because someone they know (family or friends) recommended us.
We also need to work out what can we do for our alumni and supporters. When our students finish their degree, they don't finish their relationship with the school or university. We should be providing ongoing input. This is now so much easier as virtual environments mean we don't even need to fly somewhere or bring people here to meet.
We can easily put events on for alumni that run online. For instance, we can update our alumni on the latest thinking and advances in marketing, logistics, human resource management, finance or economics.
We need to have those conversations and we need to hear from alumni about what we can do for them.
We also want to look at opportunities for how our alumni can work with current students. This can be anything from projects, to placements, mentoring or live case studies in the classroom. These are all things our alumni can engage with to help current students.
How can we engage with organisations our alumni work for? Can our research capabilities help them? Is there a need for CPD that we could provide?
We need to have those conversations and we need to hear from alumni about what we can do for them.
We have over 32,000 Business School alumni, how important is it to you and the School to ensure we have meaningful opportunities for a life after graduation?
As alumni, you always have an affinity with your university, and it is always a pity when students leave and feel like that was it.
I always say an individual will become an alumni from the day they start their course. Their life association with the university starts with the first day in fresher's week.
We are proud of our 32,000 alumni. We are always thrilled to hear from people we have taught. It is great to hear how our students' careers have progressed. It is about a sense of community and having ongoing engagement with the virtuous cycle of benefits that both sides gain by staying in touch.
Our alumni like to reminisce about Newcastle as a city, what have been your first impressions and favourite place to visit?
As a city, Newcastle is very friendly and compact and it has a great feel. It has a lovely mix of coast, city and countryside. I would say for me the best feature is the cows on Town Moor; not many cities in the UK have cows so close to the city centre. I also do enjoy going to the Quayside and being by the river.
We all have a world outside of work, is there anything you like to do during your spare time?
I am a runner and have entered the 2023 Great North Run, due to a promise I made with a colleague within the HR team at the University. I said, if I get the job, I will do the Great North Run! We shall see how I get on with that.
In the past I have done quite a few marathons and half marathons in the UK. I used to do small events to get a personal best, but I have retired from marathons many years ago; age caught up with me. However, I do still run regularly and occasionally do a half marathon to satisfy myself that I can still do it.
I also enjoy walking. Last year I walked half of the southwest coast path (315 miles). One day I will return and do the rest. I am also involved with the church in my home town. I enjoy travel. The last major trip I did was in Sri Lanka for a walking and sightseeing tour through the mountains.
One thing I do is promise myself to every day do something for myself. It could be running, walking or going to the cinema. This way, you have downtime, you feel better and you perform better at work.
How can alumni connect with you and the School?
Through the alumni team. They communicate with alumni and are also the entry point for talking to us. I hope over time to have the opportunity to communicate with alumni here and overseas. It will be great to meet with past students and find out about what they are doing now.
To get regular updates from the School make sure you join our LinkedIn alumni group where you can hear from us, connect with other alumni and find out the latest opportunities that you can be part of.
If you would like to contact the alumni team directly, please contact them via email.