In Conversation With Bimo Reksoprodjo
29 July 2022
Our alumni travel from all over the world to study with us and we love to hear their stories about their student experience and the connections they have made. After all, University is more than an education, it is an experience that lasts a lifetime.
Bimo Reksoprodjo is one of many international alumni that chose to call Newcastle their second home. Bimo is originally from Indonesia and has studied in Australia before moving over to the UK to continue his education at Newcastle University Business School. Today, Bimo works at a Software Consultancy in his home country of Indonesia.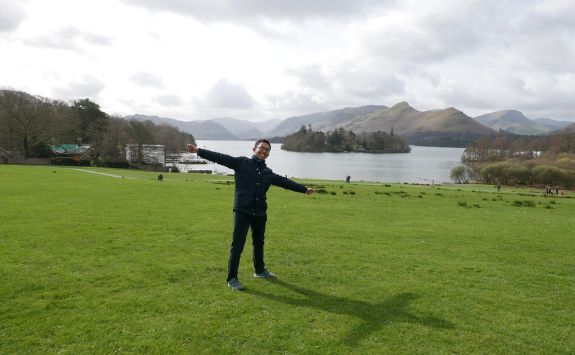 I chose to study the E-Business MSc at Newcastle University Business School after finishing my studies in Australia. I found out about NUBS through the local Medical School at Indonesia. When I was applying for universities and looking at what each had to offer with my mother, I remembered the Medical School has great partnership with Newcastle University. I then checked credibility of NUBS and did research on what was on offer for Postgraduate study. I loved the potential of learning both business and IT.
I got the offer to study at Newcastle before any job opportunities and received the Vice Chancellor's International Scholarship scholarship from Newcastle University. The scholarship, as well as providing financial assistance, brought great pride to my parents through receiving the funding.
My favourite aspect of studying at Newcastle was the opportunity to work in two buildings on campus - the Business School and the Urban Science Building. Both buildings had new facilities and to learn in two environments was an interesting process. For me, to be able to go back and forth and experience and learn many different things in one day was very engaging. I was fortunate to live just outside the Business School, so it was very easy for me to get there for my studies – it was on my doorstep!
It was important for me to connect with fellow students during my time at Newcastle University Business School. During my studies, the cohort was very diverse. Despite us being from everywhere across the globe, we would sit next to each other and start talking. So, I am fortunate enough to make connections from way west in Mexico all the way to Japan and Australia. All of this was happening within one classroom. It was a great experience and I really cherish it.
The cultural exchange is amazing, and I get the chance to show my friends what Indonesia really is. It has been great learning things from a local and global perspective.
Staying connected is important to me. I would say that friends are not something you can buy and the experience of making friends will never be replaced. Being able to retain friendships is the key to life for me.
I have many great memories of studying and socialising with my friends. As a cohort we did a lot if things together including the Give It A Go (GIAG) programme (activities programme ran by Newcastle University Students' Union). One of which is when we attended the Newcastle Shooting Club. I also watched a football match at St James' Park. It was a euphoric atmosphere and I thoroughly enjoyed it.
After completing the programme, I chose to stay in touch with my peers as I really cherish the connections I made with my classmates and lecturers throughout my studies. Before the pandemic I was planning a trip to Thailand (which was postponed for 2 years). I eventually got to visit this year in May and met my friends from Newcastle University Business School in Bangkok.
I try and see my classmates as regularly as I can. During COVID-19, I kept in touch by calling my friends which proved challenging with different time zones as we were all living in different countries. I am fortunate enough to make friends from NUBS based here in Indonesia. I hang out with them every week or two and we go for food or venture around the city.
Staying connected is important to me. I would say that friends are not something you can buy and the experience of making friends will never be replaced. Being able to retain friendships is the key to life for me.
When I had the first opportunity to study abroad in Australia, my parents motivated and instilled in me to try to enhance the study experience to the fullest. It is great to see different life perspectives, it helps with student life.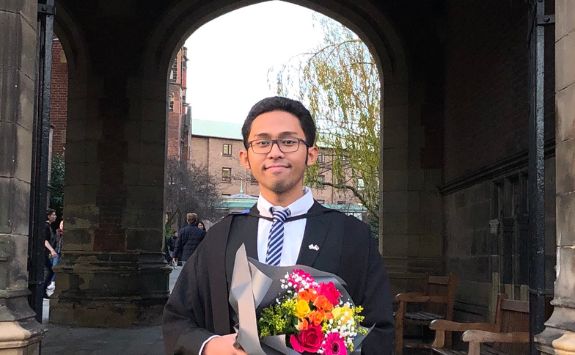 The E-Business MSc (Information Systems) has helped me with building my career. When it comes to my career, I applied for 163 jobs before landing one. The application process happened after I landed in the UK from October until December when I tried applying for jobs. I ended up being accepted for a role with a Healthcare Start Up just before the pandemic hit.
As I am learning more about business in my roles, I can see similarities in how a good developer should think. When it comes to business, profit is key and reducing business costs is appreciated - all factors I have learnt on my degree.
I had my CV tailored many times at the Business School by the Careers Team and had their support when applying for roles. My lecturers were also helpful during my studies.
My top tip for someone looking to build their networks would be to start with the closest thing you have. This could be your close peers in class. When you go around the city you may take in interest of other things such as the Give It A Go (GIAG) programme session or your local gym. Start from there and try to expand progressively. I know taking the first step can be difficult but once you start progressing you can really open your mind to different perspectives everywhere.
If like Bimo you would like to connect with your peers in your area, start your own network or organise your own reunion/ event, then get in touch with us.