Graduates complete internship at North East tech company following successful management consultancy project
11 September 2023
Cara Telfer (Business Management BA) and Charlotte Smith (Marketing and Management BSc)participated in the School's Management Consultancy Project in 2022-23 as part of their degree, alongside a team of four other students from their respective courses. The success of the project led to them securing a 6-week internship with the company taking part, Ingram AV.
Ingram AV is an SME offering audio visual equipment hire and technical production based in Hoults Yard, Newcastle. The company recently launched NRG, a new innovative off-grid energy solution, and required support with a marketing strategy for the product.
Through the School's Management Consultancy Project – an optional practice-based module designed to help students apply their learning by working for an external client to address a business issue – students were able to support Ingram AV on its mission.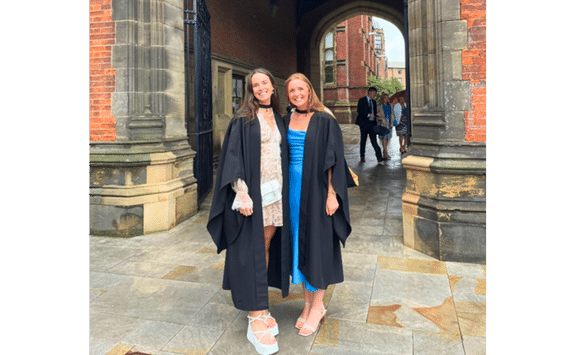 Developing a strategy
For the Management Consultancy Project, the student team was tasked with working on a market entry strategy for Ingram AV's NRG system, a product which provides clean, reliable, silent power for use in a variety of applications and integrations, particularly events and film production.
Through the project, the students developed a strategy and list of actions to support the new product launch and growth.
Talking about their input into the project Charlotte said: "As a keen environmentalist, the project allowed me to gain real world experience in sustainability, an area I want to pursue a career in."
Cara added: "I found the experience very rewarding as it offered a chance to practice the theory we learned during our degree and learn skills needed for the workplace. I enjoyed the team working aspect of the project. It also gave me an insight into what it would be like to work within a small business."
Reed Ingram Weir, Director of Ingram AV, added: "Cara and Charlotte are great advocates for the University. Their determination and capabilities shone through during the consultancy project, and we were delighted with the results provided by the team."
A shared focus on sustainability
Sustainability and clean energy are the key focus for Ingram AV, something which is close to the heart of Newcastle University Business School which closely supports the United Nations' Sustainable Development Goals. The School is dedicated to motivating its communities to build a responsible, inclusive and just future for all. This made working with Ingram AV a great fit for both organisations, as well as the students.
From consultancy project to interns
Following the success of the Management Consultancy Project, and due to the number of recommendations put forward, Reed utilised the NCL Internship scheme available via the University's Careers Service to employ Charlotte and Cara as Environmental Interns into his company. They were employed part-time for six weeks and helped bring their strategy to life within the company.
Reed explains: "Following the project, I really wanted to put the team's great suggestions into action within the business as quickly as possible. One of their recommendations was to get an intern to support with implementing their strategy so this was the first thing I actioned, using the University's internship scheme."
I was delighted when Cara and Charlotte applied for the position as I knew they could dive straight into the project as they already had gained a deep understanding of the product during their consultancy project.
During the internship they created the company's environmental statement and supported its social media presence; framing messages in a simplified way to key target audiences – those who may not be familiar with the industry but would benefit from the NRG product.
The students also attended a sustainability networking event held at Hoults Yard, where all companies on the premises discussed how they can be more sustainable – something which has added to Charlotte and Cara's real-world experiences.
Talking about his experience of working with students, Reed said:" I really appreciated the completely different perspective Charlotte and Cara had when it came to explaining what the product is and the benefits of it to new audiences. I am from a very technical background and sometimes things need to be simplified to be digested, and they help us achieve that.
We completed many of the objectives we set out to achieve, from a new company environmental statement to case studies and even being awarded certification from Albert to underpin out sustainability credentials."
As a result of their internship Charlotte and Cara have developed themselves further in preparation for entering the job market, whilst supporting a local business.
Following their graduation in July 2023, Cara has successfully secured a graduate scheme and Charlotte will be taking up some freelance work at Ingram AV after a short period of travel.
Cara said: "As a result of the internship I have been able to grow in confidence and practice the skills needed to work amongst a team in a business setting. I can now use these skills and further develop them as I start my graduate scheme in October."
Charlotte added: "I was able to gain experience in an industry I hadn't previously thought of entering. I entered my final year at university worried I didn't have a clear career path. However, the consultancy project and internship demonstrated that there are so many options available for me. I can't wait to further enhance my skills and continue to contribute to Ingram AV's success."
Supporting businesses
Businesses can benefit from our students' knowledge through a variety of initiatives including student projects and internships.
These initiatives support the education of those living in the North East and the next generation of workers in the region, whilst giving businesses get fresh insight and recommendations on strategic business issues, to help them achieve objectives. Find out how we collaborate with businesses.