Academics examine signs of mental health tsunami
3 June 2021
The project (led by Dr Becky Inkster, Neuroscientist and Advisor at the University of Cambridge) presents data insights from multiple digital platforms regarding the COVID-19 crisis. Working with 45 digital mental health services, four financial service providers, and three other relevant data sources, this study aims to provide a proof-of-concept of the viability of collaboration between researchers and private companies to rapidly convene data insights and to monitor and respond to mental health needs for the common good. The project team represents a large consortium from different disciplines and a variety of institutions located worldwide.
During the COVID-19 crisis, displacements to healthcare systems and economies may have created the perfect storm for an impending and enduring mental health crisis. Given that pre-COVID-19 predictions indicated that by 2030 depression will be the leading cause of disease burden globally, Dr Elnahass argues that the mental health impact of the pandemic and economic crisis must be mitigated, as governments around the world attempt to contain the virus.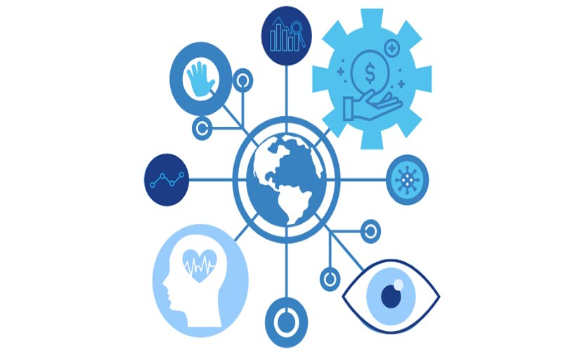 Traditional mental health services and related activities have declined during the crisis, but the digital frontline of mental health has seen unprecedented increases. This leaves the project team in a unique position to provide insights into the impact of the pandemic on people's mental health.
Dr Elnahass' contribution to the project involves insights and developing discussions into the issues surrounding corporate governance, reporting and compliance, and inclusivity and diversity. Dr Elliott brings focuses on behavioural psychology, machine learning systems, and artificial intelligence (AI) in financial services. Collectively they explore ethics, trust and, finances, explaining that virtual ecosystems (such as digital mental health services) are incredibly diverse and fine-grained; people go to where they feel comfortable, and when they are ready to open up, they share powerful insights.
New study of its kind
Drs. Elenhass and Elliot said of this study "To our knowledge, this has never been done at scale before. With rapid turnaround, a diverse range of 50+ providers came forward with collective information sourced from a user base of at least two million people but possibly reaching upwards of 50 million. It is also important we bring together other sectors like financial services providers, given the important links between and money and mental health and the potential for more holistic treatments (Inkster et al., 2019 Lancet Digital Health). We hope this novel project raises awareness and helps bridge the gaps between digital mental health services, and offline conventional mental health services, as well as harnessing important connections with other sectors such as financial services."
We hope this novel project raises awareness and helps bridge the gaps between digital mental health services, and offline conventional mental health services, as well as harnessing important connections with other sectors such as financial services.
Next steps of the study
This study demonstrates the complexity of mental health concerns as witnessed by digital providers. A recurring observation is that demand for digital mental health support has risen. The nature of this demand has also changed since COVID-19, with a notably increased presentation of anxiety and loneliness.
The project team hope that these insights might help to form an epistemological foundation to stimulate future research and interventions. Looking ahead, the team are developing a rigorous process to interpret insights from a wide variety of sources to monitor and respond to mental health needs. Kevin Telford (Partner Engagement lead at the Global Open Finance Centre of Excellence) believes the intersection of health and financial wellbeing is best explored through data sharing for good. The project anticipates that the experts' access to various data assets could provide significant positive impact into aspects of mental health through a multidisciplinary team of talented people and enabling tech. The project provides the opportunity for data-driven innovation through data science to deliver intelligence for smarter interventions, achievable through collaborating organisations and good data governance.
Drs. Elnahass and Elliott hope that the project will raise awareness of the importance, and demonstrate the complexities of, mental health; requiring everyone to work together. The project demonstrates community building and organisations coming together in a time of great need, highlights the rapidly growing area of digital mental health, and the need for close attention to these vast digital ecosystems.
An important next step will be to develop rigorous means to bring together public and private sector data to monitor mental health needs in real-time (just as contact tracing is used to manage the viral epidemic). This can fuel research and understanding and help to inform high-quality responses that can be delivered remotely to those in need.
The project will continue to work with providers to capture follow-up insights at later time points. The team continue to recruit new providers and new contributors to address issues of data representativeness.
More information can be found on the project website.