Will e-cargo bikes be the breakthrough for delivery services?
25 October 2022
When almost a year ago I moved from Castellammare di Stabia, my little city in Italy, to England to embark on a Master's in International Marketing at Newcastle University, I would have never expected to be directly involved in on-site marketing research, writes Annachiara Capuozzo, International Marketing MSc student at Newcastle University Business School.
As all marketing students know, one of the first steps needed when launching a new product/service is to test the water to understand if there is a real appetite from consumers and gather insights about customer perceptions and uptake intentions.
That is why I was thrilled when I was asked by NICRE to travel to Hexham, a market town in rural Northumberland, for fieldwork data collection. Together with NICRE's Barbara Tocco, Senior Research Associate in Rural Enterprise and Centre Manager, we conducted on-site customer intercept surveys to understand the needs and opportunities for e-cargo bikes/zero emission delivery service.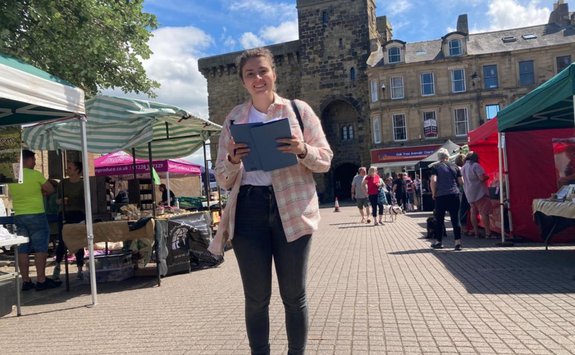 When I was first contacted to support on this project, I must admit that it was my first time seeing an e-cargo bike. In Italy, low-carbon vehicles are not very common and the most sustainable travel choice is cycling, where it is possible, or choosing a bus instead of driving a car.
However, most of the people we interviewed had a bit of knowledge about e-cargo bikes, and, in some cases, they were passionate about cycling and sustainable travelling that they saw the innovative potential of zero-emission delivery services.
First observations
The marketing research was conducted on two different days over the summer to gather insights from customers shopping at the farmers' market and in the market town.
Many of the people we spoke to at the farmers' market came from further afield while we also had the opportunity to talk to Peter, the manager, who was enthusiastic about this initiative. He suggested that the service could be tested for four to five months to find out the best way to deliver the products, and to understand if consumers are more likely to shop online or to still walk to the market.
We spoke to a larger proportion of local people when in the town itself with many showing an interest in using the zero-emission delivery service to save time stopping off for items on their way to work. They even suggested adding the option to deliver products bought through an online platform to the workplace to make it more convenient. Given the hills around Hexham make it difficult for people to carry heavy bags, there was also support for using e-cargo bikes as a delivery service, without having to give up going to the market to choose products and have conversations with traders and other customers.
Most people would consider using e-cargo bikes as a delivery service in rural areas because they are concerned about the environment. They find it a realistic way to support local farmers and make a significant impact in reducing carbon emissions.
Positive experience
Overall, the experience was very positive, and I enjoyed supporting NICRE and contributing to this important area of work! The data collected and conversations held with local people confirm that there is a very positive attitude towards e-cargo bikes. Even people who had never seen them (guess I was not the only one!), were more than happy to consider the service for their future shopping days, and they are interested to see whether e-cargo bikes will be used in Hexham as a sustainable delivery service in future.
Watch this space to see how this initiative, in partnership with Food and Drink North East (FADNE), develops.