Stephenson Building enters a new stage in its rich history
28 July 2021
Planning permission granted to transform Newcastle University's Stephenson Building into a hub for research, learning and engagement in Engineering
Following Newcastle City Council approval, the Stephenson Building, which was opened by HRH The Duke of Edinburgh in 1951 and is named after engineering pioneer George Stephenson, will be partially demolished, extended and refurbished to provide facilities for engineering research and teaching.
Acting as a focal point for all elements of the University's Engineering School, the £68.75m, four-storey building will house innovative teaching and social spaces, workshops, laboratories, offices, computer clusters and maker spaces.
Professor Chris Day, Vice-Chancellor and President, Newcastle University, said: "This approval has been the culmination of work carried out by many academic and professional services colleagues across the whole University.
"The new Stephenson Building is part of Newcastle University's investment in quality facilities that deliver an outstanding student experience and an excellent environment for our students' learning, teaching and research. The project also embodies our commitment to sustainability and enables new, exciting and diverse sustainability-driven curriculum within engineering and with other disciplines."​
Fresh focus on engineering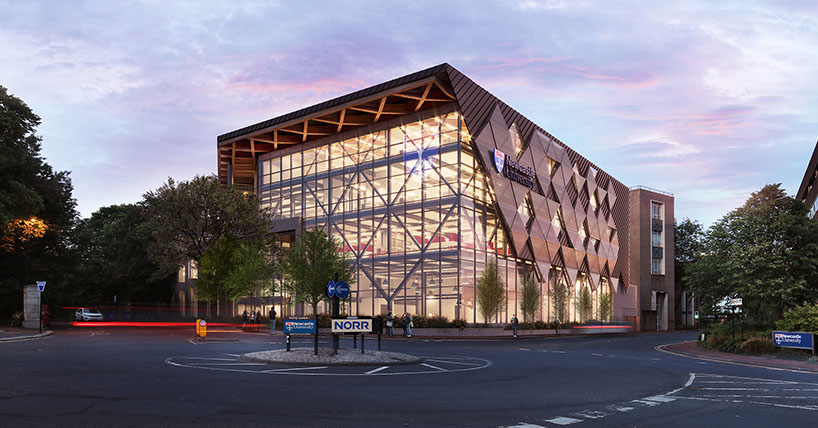 Professor Ian Postlethwaite, Head of Engineering, Newcastle University, added: "The Stephenson Building will create a fresh focus on engineering as well as reaching other disciplines through the co-creation of taught programmes and research collaborations. The redevelopment will help generate partnerships with industry and support us in addressing the Industrial Strategy Grand Challenges, the climate emergency and critical skills shortages.
"The eye-catching building will make a statement about Engineering at Newcastle, representing substantial world-leading research, innovation and cutting-edge teaching, whilst at the same time encouraging people from a wide range of backgrounds to walk through its front door. It will create an atmosphere which is open, inclusive, creative and entrepreneurial, while allowing group identity to develop. It will be buzzing, lively and productive, whilst also offering contemplative spaces and a safe working environment."
Subject to legal agreement, work is proposed to start on the redevelopment in May.
Newcastle University's School of Engineering is home to 16 research groups that span the major disciplines of Chemical Engineering, Civil and Geospatial Engineering, Electrical and Electronic Engineering, Mechanical Engineering and Marine Technology.
Find out more about studying in the School of Engineering at Newcastle University: https://www.ncl.ac.uk/study/
The new Stephenson Building is part of Newcastle University's investment in quality facilities that deliver an outstanding student experience and an excellent environment for our students' learning, teaching and research