Plan Your Visit
How to find and contact us, reading room opening times and what to do before you arrive.
Before you visit
Items must be requested at least one week in advance to ensure we are able to book your slot and retrieve your requested material ahead of your visit.
See here for a step-by-step guide on requesting an item and a link to the request form.
After you have submitted your request form, we will contact you to make a provisional booking whereby you will be allocated a slot (maximum of 2 per week) pending us retrieving your material.
Once your material has been retrieved, we will contact you again to confirm your slot(s), and let you know what you need to do when you visit.
In line with the UK Archive Sector we have adopted The National Archives' Coronavirus Visitor Charter. Before your visit we ask that you read and commit to the charter in relation to your visit with us. All of these measures have been introduced to ensure the safety of valued researchers like you, and our staff. We thank you in advance for complying with them.
Please see our Library Help topics below for information about what you will need to bring with you, and our document and book handling guidelines.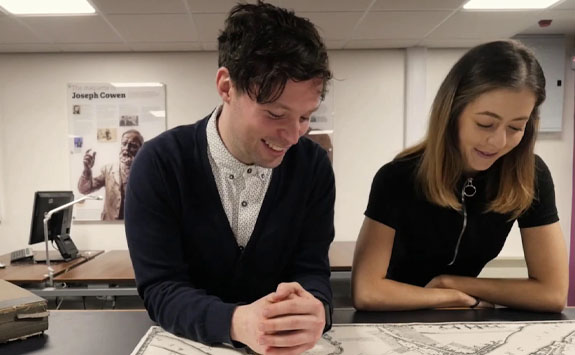 When you arrive
You may arrive at any time during your appointment but please do manage your time appropriately as your appointment will need to finish by the allocated time. On arrival, please report to reception, where staff will direct you to the Reading Room.
Please note, unless you have indicated on your booking form that you have a legitimate reason not to do so, you will be expected to wear a face covering for the duration of your visit.
How to find and contact us
The Special Collections reading room is on Level 1 of the Philip Robinson Library, Jesmond Road West, Newcastle University, Newcastle upon Tyne, NE2 4HQ
Email: libraryhelp@ncl.ac.uk
Telephone: +44 (0) 191 208 7712
Related topics in Library Help