Postgraduate Events
Explore our campus and city, find out about our courses and meet our staff and students to have all your questions answered.
About our study events
Do you want to explore our beautiful campus and city? Perhaps you want to chat to a member of staff or meet current students? We offer a range of postgraduate events and resources to help you discover everything you need to know about postgraduate study. There's something for everyone no matter where you live in the world.
We offer a range of:
campus events
online virtual events
varied events throughout the UK and overseas.
These events provide a great opportunity for you to meet with our staff and find out what it's like to be a student at Newcastle University.
Virtual events
Don't worry if you can't make it to one of our campus-based events. We run various virtual events throughout the year to ensure that you can connect with us no matter where you are.
Like our campus-based events, our online events provide a great opportunity for you to:
hear from our expert staff, current students and alumni

ask any questions you might have
find out what it's like to be part of our postgraduate community
Campus Open Days
Our on-campus open days provide a great opportunity to:
explore our beautiful campus
discuss your study options with a member of staff
chat to current students about what its really like to study here
understand more about the funding opportunities for postgraduate students
get advice and guidance from our award-winning careers team
discover the city of Newcastle
Our campus open days usually take place in early February.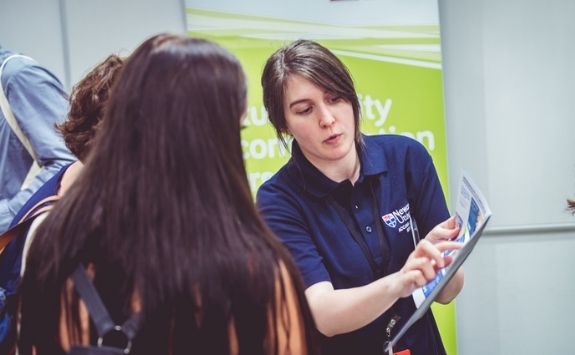 Subject-led events
Throughout the year some academic schools and institutes run open days for prospective students and offer holders. At these events you can:
meet academics and current postgraduate students
find out about taught and research degrees
visit facilities
You may be able to arrange a visit that is not part of a scheduled open day. Contact your proposed academic school or research institute to find out if this is possible.
Meet with your potential supervisor
If you are interested in one of our research programmes and have identified a potential supervisor, we'd encourage you to contact them to discuss arranging a visit. Your proposed academic school or research institute will be able to help you with this.

Find out more about our academic schools or our research institutes.
International events
We're a truly international university, with over 28,000 students from over 140 countries represented on campus. With this in mind, we regularly travel overseas to meet students and to help answer all your questions about studying with us.