Middle East and North Africa
Newcastle University's engagement in the Middle East and North Africa (MENA) region spans a wide array of academic disciplines.
Our academic excellence
Our academic disciplines in the MENA region range from archaeology and archives to renewable energy.
Newcastle University continues to build on a strong foundation of academic excellence, benefitting students and communities in the UK and the MENA region. This is through:
student exchanges and jointly supervised PhDs
dynamic collaborations
cutting-edge research
new partnerships
We're also proud to welcome more than 500 students from the MENA region. They contribute to our academic excellence and global university community.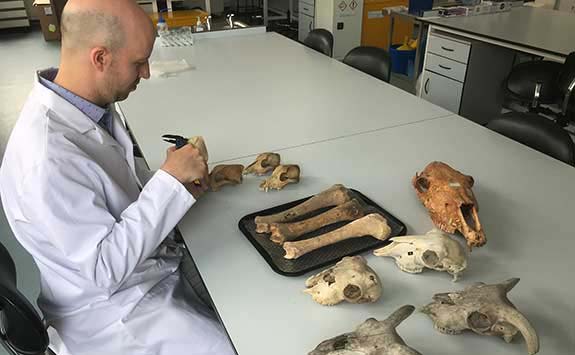 MoU with Princess Nourah Bint Abdulrahman University
We recently signed a Memorandum of Understanding (MoU) with Princess Nourah University (PNU) in Riyadh, Saudi Arabia.
PNU is the largest all-female university in the world. This new partnership will foster collaboration in key areas of mutual interest, including:
museum and gallery studies
renewable energy
data science
artificial Intelligence
dentistry
immune biology
drug chemistry
Early detection of language difficulties across the Middle East
Bulbul, which means nightingale in Arabic, is an international project led by Newcastle University researchers. They are working across:
the UK
Lebanon
Jordan
the West Bank
Egypt
The project will develop tools to:
measure Arabic-speaking children's language development
promote the early detection of language difficulties across the Middle East
inform policy in these areas
Preserving the past
Newcastle University archaeologists work with local and international partners to push the boundaries of knowledge of our shared past.
Newcastle's growing, diverse and supportive community of outstanding researchers is developing cutting-edge theory, methods and technologies. They work in key thematic areas such as early Islamic water management in the Middle East and North Africa. Researchers also focus on the archaeology of Islamic(ate) cultural heritage in Europe.
Cultural heritage in landscape - planning for development in Turkey
Together with Turkish academics, Newcastle University researchers are leading a project that will develop emerging landscape characterisation methods. The technique can be used across and between disciplines. The project will address the challenges of environmental and social change through landscape.
Advancing Biomedical Studies
Newcastle University's collaboration with King Abdulaziz University (KAU) in Jeddah, Saudi Arabia includes an external joint supervision programme.
This provides opportunities for female academic staff members to undertake jointly supervised Doctoral research.
This collaboration has resulted in successful graduates in the fields of Biology and Cellular Medicine.
University organisations
International students
If you are an international student from the Middle East or North Africa, visit our International Students website.
You'll find information about entry requirements, scholarships and more for your country.
Global opportunities
We have a strategic partnership with the International Coalition of Sites of Conscience (ICSC). We've placed student interns at several ICSC member sites, including the Human Rights Center for Memory and Archives in Morocco and the Act for the Disappeared in Lebanon. Students actively promote social justice and a universal culture of human rights. They work to:
empower marginalised communities
counter hate speech and violent extremism
preserve the memory of victims of human rights violations
We offer opportunities to travel to the Middle East and North Africa and other global destinations through:
exchanges
summer programmes
volunteering
work opportunities