Small Island Developing States
Newcastle University is actively partnering with Small Island Developing States (SIDS) institutions to tackle global challenges.
Tackling global challenges
Small Island Developing States (SIDS) face distinct social, economic and environmental challenges. SIDS are a group of 38 UN Member States and 20 Non-UN / Associate Members of United Nations regional commissions.
We are working in partnership with SIDS institutions to tackle global challenges such as:
co-investigating threats to marine ecosystems
hosting joint workshops on the use of sustainable construction materials
We're also proud to welcome students from over 15 SIDS countries, including the Cayman Islands, Bermuda and Trinidad and Tobago.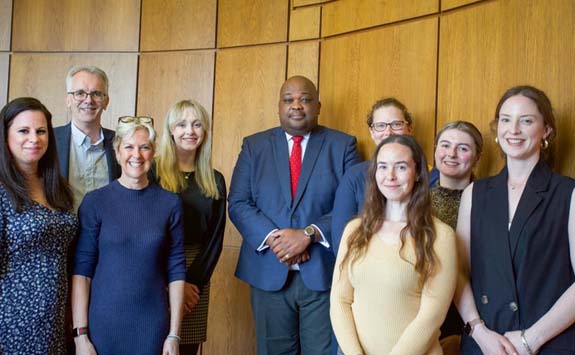 Marine resource governance in South Pacific Islands
Newcastle University academics are exploring the role of customary law in marine resource governance. This is in the plural legal systems of the South Pacific islands of:
Vanuatu
Solomon Islands
Fiji
The focus of this AHRC GCRF funded project was on women's experience and narratives of customary law. The aim was to establish if, and to what extent, women have a voice when customary law is incorporated into governance mechanisms for sustainability.
Future of Reefs in a Changing Environment (FORCE) project
We're delivering the FORCE project in partnership with the Centre for Resource Management and Environmental Studies at the University of the West Indies (UWI), Barbados. The project involves extensive socioeconomic and governance fieldwork in various Caribbean locations such as:
Barbados
Honduras
St Kitts and Nevis
Belize
Ecological surveys have also been carried out across 22 Caribbean countries in the assessment of threats to marine ecosystems.
The project included jointly taught PhD students, staff exchanges and training.
The FORCE project laid the groundwork for the National Ecosystem Assessment and Blue Economy programmes. They are ongoing in Anguilla and the British Virgin Islands.
Find out more about the Future of Reefs in a Changing Environment project
Kids Action Thru Science
Citizen science is an important mechanism for engaging young people in the Blue Economy. We're currently implementing projects together with our Water Hub programme in SIDS in the Caribbean (SDG 6 and SDG 14).
Activities include:
safety at sea
beach clean ups
coral reef and sea turtle conservation
trade issues relating to our oceans
Young researchers will collect and analyse data and report back to their national governments. The aim is to inform policy relating to:
resilience
climate change adaptation and food
livelihood security in home countries and islands
The project:
builds capacity
inspires the leaders of tomorrow
shares the prospect of prosperity and economic diversification
Bamboo construction workshop with Haitian partners
A symposium and two-week workshop recently took place on the use of sustainable, bio-based construction materials such as bamboo. Students and researchers from across the globe came together for this event, sponsored by Newcastle University's Global Partnership Fund.
The workshops helped promote the decarbonisation of the built environment. They encouraged long-term innovation amongst the next generation of architectures and engineers from:
Collaborative short-course on the Blue Economy and Trade
We're co-sponsoring a one-week short course on the Blue Economy and Trade. This is together with the University of the West Indies' Shridath Ramphal Centre.
The course is in collaboration with the Organisation of Eastern Caribbean States (OECS) and the United Nations Conference for Trade and Development (UNCTAD).
It will examine the global politics of trade, development and the environment. This is within the context of disasters such as:
weather (hurricane, flood, drought)
geophysical (earthquake)
biological (epidemic)
Many of these disasters have been exacerbated or catalysed by climate change.
The course will also explore available tools to support relief, recovery and development. This will help strengthen countries' resilience and chance of prosperity.
Global opportunities
Newcastle University has a strong partnership with the Barbados Ambassador and Permanent Representative to the United Nations in Geneva. We were able to place students in three in-person and 11 virtual internships at the:
Barbados Permanent Mission in Geneva to the United Nations
World Trade Organisation
other international organisations
Through the internships, students gained a unique insight into the Embassy of a Small Island and Developing State. They represented Barbados at the World Trade Organisations' 12th Ministerial Conference.
H.E Chad Blackman, Ambassador of Barbados in Geneva also gave a guest lecture to Master's students at Newcastle University. He was also a guest speaker at a roundtable event on the Blue Economy.
International Coalition of Sites of Conscience
We have a strategic partnership with the International Coalition of Sites of Conscience (ICSC). We've placed student interns at several ICSC member sites, including the Women's Institute for Alternative Development in Trinidad and Tobago. Students actively promote social justice and a universal culture of human rights. They work to:
empower marginalised communities
counter hate speech and violent extremism
preserve the memory of victims of human rights violations
We offer opportunities to travel to SIDS and other global destinations through:
exchanges
summer programmes
volunteering
work opportunities