Sub-Saharan Africa
Collaborating with African institutions to deliver cutting-edge research and education.
Making a positive impact
Newcastle University is working with partners in Africa to deliver research and education.
The mutual benefit it's had for communities in the UK and in Africa include
utilising renewable energy to improve rural livelihoods
promoting networking opportunities for emerging artists
investigating the prevalence of noncommunicable diseases
We're also proud to welcome students and staff from 33 countries in Africa.
They contribute to our academic excellence and global university community.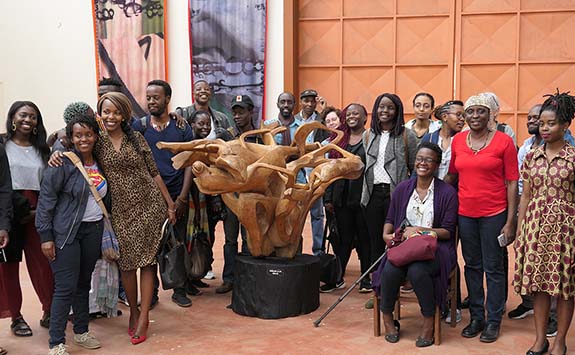 Networking opportunities for artists in East Africa
Newcastle University and Makerere University in Uganda are working with visual arts organisations in East Africa and the UK. They are leading the development of:
workshops
artist toolkits
new commissions
curated projects
The project has worked with more than a hundred independent artists, art writers and art professionals. It's enabled researchers and students in both regions to learn directly from the first-hand experience of those working in the field.
For more information, visit our Global Challenges Academy.
Building resilience to pluvial flood risk
Researchers from Newcastle's School of Engineering are investigating the long-term change in both natural environments and urban systems. There is a strong focus on water security and sustainable infrastructure.
This included a project in Kampala from 2018-2020. It aimed to build resilience to pluvial flood risk, by considering both direct and indirect impacts.
Stroke, Parkinson's and healthy ageing in East Africa
Newcastle University academics are leading ground-breaking research in close collaboration with universities, hospitals and medical foundations in:
Tanzania
Kenya
Ghana
Nigeria
Ethiopia
UK
This research provides reliable data on the prevalence of stroke and Parkinson's disease. They are also looking to see how these diseases are perceived and the role that local support groups can provide.
Furthermore, students have directly contributed to this research through fieldwork placements at medical centres in Tanzania.
Find out more about Stroke, Parkinson's and healthy ageing in East Africa
Tropical landscape conservation
Researchers from the School of Environmental Sciences head the TROPical landScapes (TROPS) lab. This is where extensive fieldwork in the tropics takes place, with sites in:
Tanzania
South Africa
Gabon
TROPS investigates biological and human well-being benefits provided by agroforestry in tropical landscapes. It combines social and ecological methods to quantify how and to what extent integrated landscape management can enhance benefits to and from agriculture.
Changing food systems in Kenya and Malawi
Newcastle University Geography researchers are investigating the cultural and economic dimensions of food consumption and agriculture. This is critical to confronting Antimicrobial Resistance (AMR) in Kenya and Malawi.
The project looks at the changing cultures of poultry meat consumption and agricultural systems. It explores ways in which it shapes antibiotic use or misuse in farming, with implications for tackling AMR.
ARUA-N8 Partnership
The African Research Universities Alliance (ARUA) and N8, the eight most research-intensive Universities in the North of England, including Newcastle, have implemented a three-year programme. It will utilise interdisciplinary research to develop a new understanding of the African food system and help tackle global challenges of:
disease
poverty
climate change
food insecurity
The partnership operates across six sub-Saharan African countries:
Ghana
Kenya
Malawi
South Africa
Tanzania
Zambia
It also fosters capacity building and skills development for academics in both regions.
University organisations
International students
If you're an international student from Africa, visit our International Students website. You'll find information about entry requirements, scholarships and more for your country.
Global opportunities
We offer opportunities to travel to Africa and other global destinations through:
exchanges
summer programmes
volunteering
work opportunities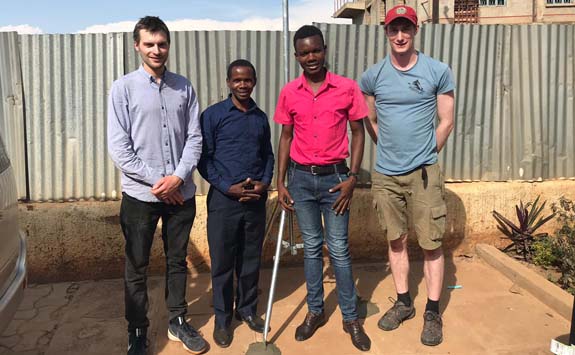 International Coalition of Sites of Conscience
We have a strategic partnership with the International Coalition of Sites of Conscience (ICSC). We've placed student interns at several ICSC member sites, including:
Students actively promote social justice and a universal culture of human rights. They work to:
empower marginalised communities
counter hate speech and violent extremism
preserve the memory of victims of human rights violations
Intercalated and elective study
Our Faculty of Medical Sciences offers intercalating students the opportunity to conduct fieldwork research in Tanzania. This is in partnership with the Kilimanjaro Christian Medical Centre.
On average, about ten students a year spend three months from March to May in Tanzania. They conduct research on a variety of medical topics including:
dementia
epilepsy
frailty
Parkinson's Disease