Civil and Structural Engineering with Year in Industry MEng Honours
UCAS code: H296
Full time
5 years
This professionally accredited MEng Honours degree includes a year in industry and an additional year of master's-level study, boosting your employability with advanced knowledge and work experience.
You are currently viewing course information for entry year:
Fees (per year)
Home: £9250
International: £26400
Entry requirements and offers
A-Level: AAB
IB: 34 points
UCAS Institution name and code:
Course overview
This Civil and Structural Engineering with Year in Industry MEng degree focuses on developing your specialist knowledge, practical experience and skills of structural engineering. It also provides a direct route to chartered engineer status, so you graduate prepared for your future career.
You'll develop real-world experience – both at University and while on your industry placement in Stage 3 – through our design-intensive programme, hands-on work in our specialist facilities and experience working directly in the sector.
Focusing on the design of bridges, buildings and other structures, you'll become a well-rounded engineer. You'll have an understanding of critical civil engineering topics, such as: sustainable engineering systems, and construction management.
You'll also study in advanced structural engineering fields, like seismic-resistant design, unique and unusual structures and structural reliability and analysis.
BEng or MEng?
Both our BEng degree and specialist MEng degrees provide a pathway to becoming a Chartered Engineer. This is one of the most recognisable international engineering qualifications.
Our MEng degrees are a direct route to becoming a Chartered Engineer (CEng). You don't need to study any more qualifications after your degree to work towards chartered status.
Our three-year BEng degree can also lead to Chartered Engineer status. However, you'll need to complete further study, such as an approved master's degree.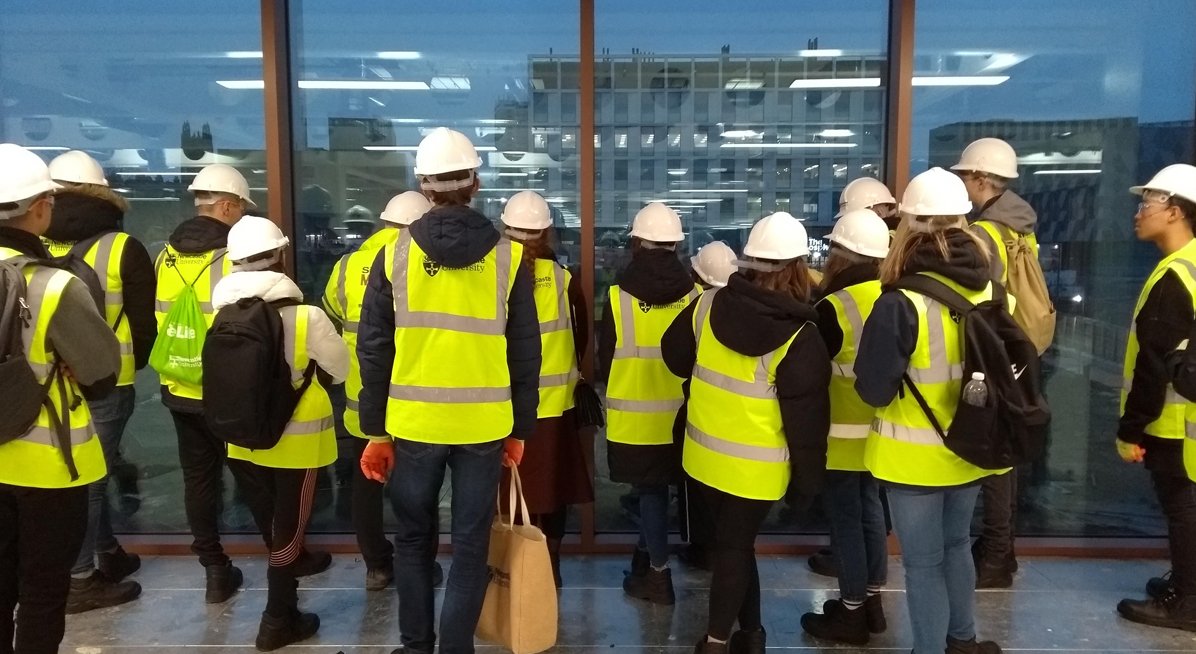 Your course and study experience - disclaimers and terms and conditions
Please rest assured we make all reasonable efforts to provide you with the programmes, services and facilities described. However, it may be necessary to make changes due to significant disruption, for example in response to Covid-19.

View our Academic experience page, which gives information about your Newcastle University study experience for the academic year 2023-24.

See our terms and conditions and student complaints information, which gives details of circumstances that may lead to changes to programmes, modules or University services.
Additional information
This degree allows you to explore several engineering disciplines in year one. This flexible route is taught across Civil, Electrical & Electronic and Mechanical Engineering.
You'll gain an understanding of engineering in a multidisciplinary context. You'll develop diverse skills relevant to the needs of industry and today's global challenges.
After successfully completing Stage 1, you'll have the option of transferring on to one of the accredited Civil, Electrical & Electronic or Mechanical Engineering degrees. This is subject to the degree programme regulations and capacity of the degree you are transferring to.
Quality and ranking
Professional accreditation and recognition
All professional accreditations are reviewed regularly by their professional body.
Modules and learning
Modules
The information below is intended to provide an example of what you will study.
Most degrees are divided into stages. Each stage lasts for one academic year, and you'll complete modules totalling 120 credits by the end of each stage.
Our teaching is informed by research. Course content may change periodically to reflect developments in the discipline, the requirements of external bodies and partners, and student feedback.
You'll receive a broad introduction to the principles of engineering. You'll get involved in practical work from day one, with a residential field trip to the Yorkshire Dales.
In Stage 2, you will see you delve further into key topics, with modules such as design of sustainable engineering systems, structural analysis, land traffic and highways, and hydraulics.
You'll also take part in a site visit to Edinburgh.
You will spend the year on a work placement in the UK or abroad. You'll gain valuable practical experience in the sector.
In Stage 4 you'll start to focus specialist areas of structural engineering, with modules such as Introduction to Architecture, Design of Building Systems, and Structural Analysis.
In Stage 5 you'll develop your skills further through an investigative research project.
You'll also have the opportunity to choose form modules such as Global Engineering, Business Enterprise in Science and Engineering, and Career Development.
Information about these graphs
We base these figures and graphs on the most up-to-date information available to us. They are based on the modules chosen by our students in 2022-23.
Teaching time is made up of:
scheduled learning and teaching activities. These are timetabled activities with a member of staff present.
structured guided learning. These are activities developed by staff to support engagement with module learning. Students or groups of students undertake these activities without direct staff participation or supervision
Teaching and assessment
Teaching methods
You'll learn through:
lectures
practical work
site visits
individual study
group work
Assessment methods
You'll be assessed through a combination of:
Assignments – written or fieldwork
Skills and experience
Practical skills
You'll carry out practical work in our specialist labs, including testing your design decisions, learning how different materials behave, and carrying out experimental work in the structures labs.
You'll also have access to our new multidisciplinary environmental lab, as well as full-scale field facilities off campus, including flood defence schemes, electric vehicles, and an engineering embankment.
Business skills
Real business skills are embedded throughout the course through design-focused modules.
In your final year, you'll also have the option to study Global Engineering, a unique international design and build challenge, Business Enterprise in Science and Engineering where you'll learn how to set up and operate a business in the construction sector, or Career Development including a work placement.
Research skills
You'll be taught by world-class researchers and cutting-edge research will be at the forefront of your learning.
You'll also undertake independent projects based around the latest industry developments, conducting your own research.
Chat to a student
Newcastle is a great university to study at. Everyone is friendly and helpful and you feel welcomed from the beginning. It's in a great city, full of life at any time of the day and night.
Opportunities
Work placement
Get career ready with a work placement and leave as a confident professional in your field. You'll apply to spend 9 to 12 months working in any organisation in the world, and receive University support from our dedicated team to secure your dream placement. Work placements take place in Stage 3.
You'll gain first-hand experience of working in the sector, putting your learning into practice and developing your professional expertise.
Placements are subject to availability.
Facilities and environment
Facilities
Our Civil Engineering courses are taught at our city-centre campus, within the School of Engineering and are based in the Cassie Building.
You'll benefit from world-class facilities and living labs, ranging from microbiology laboratories through to at-scale engineering equipment.
Each engineering discipline has its own specialist facilities, including:
the Millennium Laboratory – home to a wide range of facilities and experimental rigs
Merz Court Pilot Plant Laboratory – a pilot plant with 28 experimental rigs
BE:WISE – Europe's largest wastewater treatment research facility
the Urban Observatory – with sensors gathering over 50 types of data across the city
Electronics Teaching Lab – home to state-of-the-art Agilent/Keysight digital test equipment
Clean-Room Microfabrication Lab – home to two class 100-10000 clean rooms
Support
To support you in your studies, all new students entering year 1 or year 2 will receive:
a tablet so you can download the online learning resources you'll need for your course (helping us to make our campus more sustainable)
a start-up pack containing essential personal protective equipment
You'll receive comprehensive support from the moment you arrive at the University. You'll be supported by personal tutors, stage tutors, and degree tutors. You'll also benefit from the School's student buddies scheme.
Your future
Civil and Structural Engineering graduates are highly employable with a diverse and transferable skill set, alongside the very specialist skills needed to succeed as a civil or structural engineer.
Recent graduates have gone on to work in roles such as:
graduate civil engineer
graduate structural engineer
consultant to architect
design-build contractor
They've taken on these roles with companies such as:
Atkins
Arup
eCOM
EH2M Hill
Transport for London
Balfour Beatty
Others have secured roles within the mining, nuclear, oil and gas, and renewable energy industries.
Make a difference
Sorry, you need JavaScript to view this video
Careers support
Our award-winning Careers Service is one of the largest and best in the country, and we have strong links with employers. We provide an extensive range of opportunities to all students through our ncl+ initiative.
Visit our Careers Service website
Recognition of professional qualifications outside of the UK
From 1 January 2021 there is an update to the way professional qualifications are recognised by countries outside of the UK
Entry requirements
All candidates are considered on an individual basis and we accept a broad range of qualifications. The entrance requirements and offers below apply to 2024 entry.
International Baccalaureate
Other UK and the Republic of Ireland qualifications
Qualifications from outside the UK
English Language requirements
Entrance courses (INTO)
International Pathway Courses are specialist programmes designed for international students who want to study in the UK. We provide a range of study options for international students in partnership with INTO.
Find out more about International Pathway Courses
Admissions policy
This policy applies to all undergraduate and postgraduate admissions at Newcastle University. It is intended to provide information about our admissions policies and procedures to applicants and potential applicants, to their advisors and family members, and to staff of the University.
Credit transfer and Recognition of Prior Learning
Recognition of Prior Learning (RPL) can allow you to convert existing relevant university-level knowledge, skills and experience into credits towards a qualification. Find out more about the RPL policy which may apply to this course.
Additional information
Advice on maths and science requirements
If you don't think you will have the exact mathematics and science qualifications referred to in our entry requirements by the time you need them, you may not be sure what to do.
If you have a maths qualification but will not have it at A Level (or equivalent) when you start your degree, you should apply for the relevant degree with Foundation Year. We may give you the opportunity to take the Newcastle University Pre-Entry Maths Course* and the option to start in Year 1 if we think that this will be the best route for you.
If you have A Level Maths (or equivalent) already but not at the required grade, you should contact us for advice. We may decide that you could be considered for Foundation Year entry, or it may be that this course is not the best option for you.
If you will not have the equivalent of an A Level in the science subject (if any) required, you should apply for the relevant degree with Foundation Year.
If you are still not sure, don't worry. Whatever you apply for, our Admissions Tutors will help you decide which is the best route for you. They may, therefore, make you an offer for a different course from the one you apply for (eg Foundation Year entry instead of Year 1 entry).
*The Newcastle University Pre-Entry Maths Course aims to provide the requisite mathematical skills and concepts needed on our engineering, maths and physics degree courses and to prepare students for the modes of learning they will encounter. The materials for the course are delivered electronically and include opportunities to practise your skills. You study the materials in your own time and, when you are ready, you book your exam with the Engineering School to which you have applied. A fee of £150 is payable at the time of booking the exam or shortly before the date set for examination.
Tuition fees and scholarships
Tuition fees for 2024 entry (per year)
Qualification:

MEng Honours

Home students

full time 5 years

Tuition fees (per year)

9250

International students

full time 5 years

Tuition fees (per year)

26400
Year abroad and additional costs
For programmes where you can spend a year on a work placement or studying abroad, you will receive a significant fee reduction for that year.
Some of our degrees involve additional costs which are not covered by your tuition fees.
Find out more about:
Scholarships
Find out more about:
Open days and events
UK open days
You'll have a number of opportunities to meet us throughout the year at our on-campus and virtual open days.
You'll be able to:
• explore our beautiful campus
• find out about our vibrant city
• discover what students think about studying at Newcastle
You'll also have the opportunity to speak to academic staff and find out more about the subjects you're interested in.
Find out about how you can visit Newcastle in person and virtually.
Worldwide events
We regularly travel overseas to meet with students interested in studying at Newcastle University. Visit our events calendar to find out when we're visiting your region.
How to apply
Apply through UCAS
To apply for undergraduate study at Newcastle University, you must use the online application system managed by the Universities and Colleges Admissions Service (UCAS). All UK schools and colleges, and a small number of EU and international establishments, are registered with UCAS. You will need:
the UCAS name and institution codes for Newcastle University (NEWC/N21)
the UCAS code for the course you want to apply for
the UCAS 'buzzword' for your school or college
If you are applying independently, or are applying from a school or college which is not registered to manage applications, you will still use the Apply system. You will not need a buzzword.
Apply through UCAS
Apply through an agent
International students often apply to us through an agent. Have a look at our recommended agents and get in touch with them.
Get in touch
By phone
Call us on +44 (0) 191 208 3333 and press option 1. Our opening hours are Monday to Friday 10am until 4pm.
Live chat
Our NCL chatbot might be able to give you an answer straight away. If not, it'll direct you to someone who can help.
You'll find our NCL chatbot in the bottom right of this page.
Online
Keep updated
We regularly send email updates and extra information about the University.
Receive regular updates by email
Social Media