Newcastle University Virtual Event Guide
Our virtual events give you the chance to find out more about your course. You can speak to academics through live chat, and learn more about what student life is like here.
Explore our University
Enter our lobby area and begin your virtual experience. Once you are in the lobby area you can explore the event. You will see the main event navigation at the top of your screen on desktop and tablet, and in the hamburger menu on your mobile phone.
Information desk
Location: Lobby
Our information desk is available throughout the event. Here you can get advice on how to navigate and find out where you need to go if you have a specific question or query. You can visit our Information Desk from the Information Desk sign at the front of the lobby.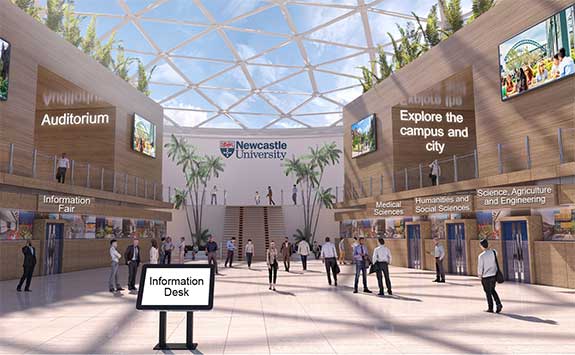 Exhibit Halls
Location: Lobby lower level
Enter our exhibit halls. We have four exhibit halls covering our academic/subject areas and general information stands. When you enter a hall, you will find a drop-down list of exhibition stands to scroll through or you can scroll through the stand images to choose the ones you would like to visit. Here you can:
find out more about the subject(s) you are interested in
speak to our academics via the live chats. If the chats are busy, remember you can pop back at any point during these times.
find out more about life as a student at Newcastle and the help and support that is available
speak to our Student Services teams via the live chat
add resources to your 'swag bag' and email them to yourself to read as and when you choose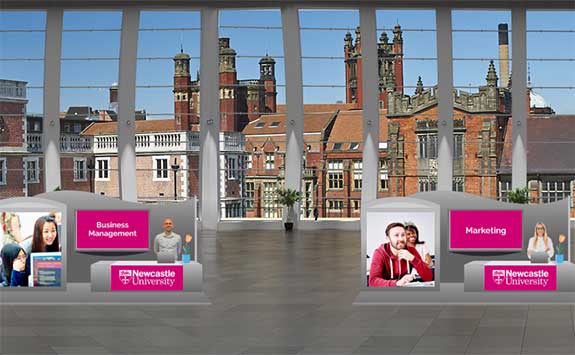 Humanities and Social Sciences
Accounting and Finance
Archaeology
Architecture
Business Management
Classics and Ancient History
Combined Honours
Economics
Education
English Language and Linguistics
English Literature including Creative Writing
Fine Art
Geography
History
Law
Marketing and Management
Media, Journalism and Film Practice
Modern Languages
Music
Philosophy
Politics and International Relations
Sociology
Speech and Language Sciences
Urban Planning
Medical Sciences
Biomedical and Biomolecular Sciences
Dentistry and Oral and Dental Health Sciences
Dietetics
Medicine
Nutrition and Food
Pharmacy
Psychology
Sport and Exercise Science
Science, Agriculture and Engineering
Agri-Business Management
Agriculture/Applied Plant Science
Animal Science
Biology
Chemical Engineering
Chemistry
Civil Engineering
Computing
Countryside and Rural Studies
Earth Science
Electrical and Electronic Engineering
Environmental Science
Geospatial Surveying, Mapping and Geoscience
Marine Biology and Marine Zoology
Marine Technology/Engineering
Mathematics and Statistics
Physics
Zoology
Information fair
Accommodation
Admissions
Careers Service
City Life
Global Opportunities
International Students
Language Support
Library Service
Our Campus – Safety, sustainability and campus development
Parents and Careers
PARTNERS – Find out how to get a lower offer
Sport
Student Finance and Wellbeing
Student Life
Discover our campus and city
Location: Lobby upper level
Join us for a live tour of our campus at 10.30 in the auditorium, so you can see for yourself why our University is right for you.
Visit our City, Student Life and Student's Union booths to ask questions you may have about being a student at Newcastle.
Our Campus booth can answer questions on safety, sustainability and campus development so you can find out how we are investing in your student experience.