UCAS code: L701
Full time
3 years
Equip yourself with the specialist skills needed to address pressing global challenges. Our flexible geography degree is accredited by the Royal Geographical Society.
You are currently viewing course information for entry year:
Fees (per year)
Home: £9250
International: £22200
Entry requirements and offers
A-Level: ABB
IB: 32 points
UCAS Institution name and code:
Course overview
Our BA Geography degree explores key societal, economic and environmental challenges. It encourages you to engage with, explore and understand the world.
Our teaching is informed by the research of our world-leading academics and spans the breadth of the discipline.
You can tailor your degree to your interests and won't need to decide between human and physical geography.
This enables you to become a specialist in your chosen field or to continue to study a broad range of geographical subjects (both human and physical).
You can select from a large number of Geography modules. These range from Glacial Environments, and River Catchment Dynamics, to Geographies of Sustainable Production and Consumption, and Global Environmental Change.
Your course and study experience - disclaimers and terms and conditions
Please rest assured we make all reasonable efforts to provide you with the programmes, services and facilities described. However, it may be necessary to make changes due to significant disruption, for example in response to Covid-19.

View our Academic experience page, which gives information about your Newcastle University study experience for the academic year 2023-24.

See our terms and conditions and student complaints information, which gives details of circumstances that may lead to changes to programmes, modules or University services.
Quality and ranking
Professional accreditation and recognition
All professional accreditations are reviewed regularly by their professional body.
Modules and learning
Modules
The information below is intended to provide an example of what you will study.
Most degrees are divided into stages. Each stage lasts for one academic year, and you'll complete modules totalling 120 credits by the end of each stage.
Our teaching is informed by research. Course content may change periodically to reflect developments in the discipline, the requirements of external bodies and partners, and student feedback.
Featured module
GEO 3102: Geopolitics
Explore some of the biggest geopolitical challenges facing humanity today. Ranging from climate change to cyberconflict.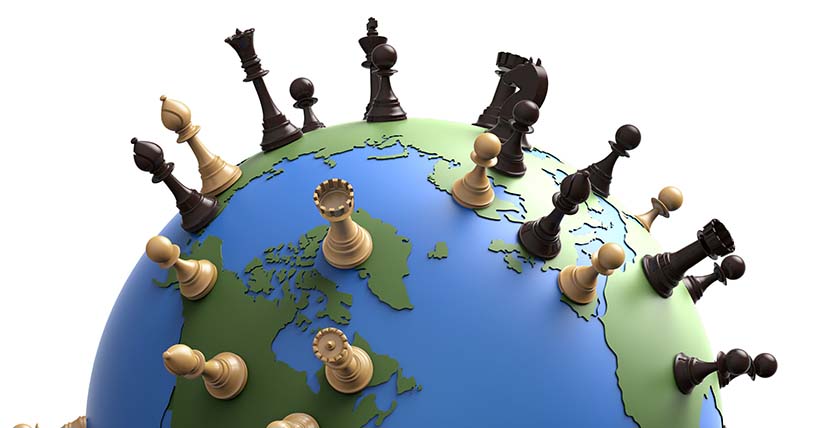 During Stage 1 we will help you to build knowledge, understanding and skills required to succeed in Stages 2 and 3 of your degree. You'll be introduced to key geographical research and the global challenges of the 21st century.
In Stage 2 you have the opportunity to tailor your degree to your interests. You'll study modules in advanced research techniques and key methods. Your remaining topics will be optional, giving you the chance to engage with the topics that interest you the most.
You will also have a choice of destinations for your Stage 2 residential field course.
Modules
Compulsory modules
If you're following a primarily Human Geography pathway you take the following compulsory modules (shown in the optional list below):
Key Methods for Human Geographers (20 credits)
Doing Human Geography Research: Theory and Practice (20 credits)
If you're following a primarily Physical Geography pathway you take the following compulsory modules (shown in the optional list below):
Doing Physical Geography Research: Theory and Practice (20 credits)
Key Methods for Physical Geographers (20 credits)
In Stage 3 you'll have a wide choice of optional modules that are directly linked to the research work of our staff.
You'll also undertake your dissertation research project. This is a major piece of independent research, based on your interests, led by you with support from a dedicated academic mentor.
Modules
Compulsory modules
You take the following compulsory module (except if you're taking Dissertation for Study Abroad Students) (shown in the optional list below):
Dissertation (40 credits)
If you're taking Student Exchange Semester 1, you take the compulsory module (shown in the optional list below):
Dissertation for Study Abroad Students (40 credits)
Modules
Field course module information
You must take one of the field course modules listed above.
Information about these graphs
We base these figures and graphs on the most up-to-date information available to us. They are based on the modules chosen by our students in 2022-23.
Teaching time is made up of:
scheduled learning and teaching activities. These are timetabled activities with a member of staff present.
structured guided learning. These are activities developed by staff to support engagement with module learning. Students or groups of students undertake these activities without direct staff participation or supervision
Teaching and assessment
Teaching methods
Our geography courses involve a high level of staff-student interaction, including:
tutorials
lectures
laboratory work
IT lab sessions
seminars
fieldwork
Your modules also require a considerable amount of independent study.
Assessment methods
You'll be assessed through a combination of:
Dissertation or research project

Examinations – practical or online

Reflective report/journal
Skills and experience
Field trips
Fieldwork is an invaluable part of this degree. Day trips in and around our region bring to life topics like industrial change and the conservation of rivers, wetlands and coastal areas under climate change.
You'll get to explore further afield in Stage 2 on our residential field trips. The destinations we visit change from year-to-year. Recent Human Geography trips have been to Barcelona, Berlin, Copenhagen and Bosnia.
Between Stages 2 and 3 you will have the option to complete fieldwork in physical or human geography as a part of your Dissertation. You will have the opportunity to apply for Expedition funding to enable you to conduct ambitious dissertation research anywhere in the world.
Find out more about geography fieldwork at Newcastle
Research skills
You'll be part of a vibrant research community. Fieldwork through your degree will help you grow as a researcher and cultivate your own research techniques.
Your final year dissertation enables you to refine the research skills you've developed throughout your degree.
Chat to a Geography student
At Newcastle, I have the opportunity to study the interplay between human and physical geography. I can explore contemporary issues like climate change, whilst learning the economic and political aspects of the world.
Opportunities
Work placement
Get career ready with a work placement and leave as a confident professional in your field. You can apply to spend 9 to 12 months working in any organisation in the world, and receive University support from our dedicated team to secure your dream placement. Work placements take place between stages 2 and 3.
You'll gain first-hand experience of working in the sector, putting your learning into practice and developing your professional expertise.
If you choose to take a work placement, it will extend your degree by a year. Your degree title will show you have achieved the placement year. Placements are subject to availability.
Find out more about work placements.
Study abroad
Experience life in another country by choosing to study abroad as part of your degree. You'll be encouraged to embrace fun and challenging experiences, make connections with new communities and graduate as a globally aware professional, ready for your future.
You may choose to spend semester 2 of Stage 2 or semester 1 of Stage 3 on an international exchange at a partner institution.
Facilities and environment
Facilities
As a geography student at Newcastle, you'll be based in the School of Geography, Politics and Sociology.
You'll have access to modern laboratories and workshops, and a range of facilities and specialist equipment that will beare part of the entirely refurbished and newly resourced home of Geography at Newcastle, the Henry Daysh Building and Geoscience Laboratories.
Our geomorphology and sediment, chemistry and biology laboratories are used for a combination of teaching and research. Our research-specific laboratories comprise organic geochemistry and palaeoecology, a spatial analysis lab, and cosmogenic isotope lab.
Field equipment
Field equipment includes a range of technologies for:
topographic survey
soil and sediment sampling
biological and chemical analysis
hydrological analysis
Our laboratories
biology laboratory
chemistry laboratory
cosmogenic isotope laboratory
geomorphology and sediment laboratories
Support
You'll have the support of an academic member of staff as a personal tutor throughout your degree to help with academic and personal issues.
Peer mentors will help you in your first year. They are fellow students who can help you settle in and answer any questions you have, when starting university.
You'll also benefit from our:
extended induction programme, to help you quickly settle in to our lively community of staff and students
activities and events run by our highly active student-run society, GeogSoc
Your future
Join a network of successful graduates
Recent graduates have secured roles such as:
graduate planner
graduate surveyor
account executive
Graduates in demand
Our graduates' excellent employment record is a sign of the flexibility and professionalism that our geography degrees develop.
You will leave with sought-after skills - including teamwork, project management, research and presentation skills - making you employable in a wide variety of fields.
Our graduates have been recruited by a variety of organisations, including:
the Department for Business, Innovation and Skills
the Environment Agency
independent and major scientific consultancies
Raleigh International
the Armed Forces
the NHS
local government
financial services firms
Make a difference
Sorry, you need JavaScript to view this video
Careers support
We value your employability highly and have our own Geography Employability Co-ordinator. In your final year you can select an optional work experience module.
Our teaching draws on insights from a range of employers, including governmental bodies, non-governmental organisations, the private sector and charities.
Newcastle University's Careers Service is one of the largest and best in the country. We have strong links with employers and provide an extensive range of opportunities to all students through our ncl+ initiative.
Our award-winning Careers Service is one of the largest and best in the country, and we have strong links with employers. We provide an extensive range of opportunities to all students through our ncl+ initiative.
Visit our Careers Service website
Recognition of professional qualifications outside of the UK
From 1 January 2021 there is an update to the way professional qualifications are recognised by countries outside of the UK
Entry requirements
All candidates are considered on an individual basis and we accept a broad range of qualifications. The entrance requirements and offers below apply to 2024 entry.
International Baccalaureate
Other UK and the Republic of Ireland qualifications
Qualifications from outside the UK
English Language requirements
Entrance courses (INTO)
International Pathway Courses are specialist programmes designed for international students who want to study in the UK. We provide a range of study options for international students in partnership with INTO.
Find out more about International Pathway Courses
Admissions policy
This policy applies to all undergraduate and postgraduate admissions at Newcastle University. It is intended to provide information about our admissions policies and procedures to applicants and potential applicants, to their advisors and family members, and to staff of the University.
Credit transfer and Recognition of Prior Learning
Recognition of Prior Learning (RPL) can allow you to convert existing relevant university-level knowledge, skills and experience into credits towards a qualification. Find out more about the RPL policy which may apply to this course.
Tuition fees and scholarships
Tuition fees for 2024 entry (per year)
Qualification:

BA Honours

Home students

full time 3 years

Tuition fees (per year)

9250

International students

full time 3 years

Tuition fees (per year)

22200
Year abroad and additional costs
For programmes where you can spend a year on a work placement or studying abroad, you will receive a significant fee reduction for that year.
Some of our degrees involve additional costs which are not covered by your tuition fees.
Find out more about:
Scholarships
Find out more about:
Open days and events
UK open days
You'll have a number of opportunities to meet us throughout the year at our on-campus and virtual open days.
You'll be able to:
• explore our beautiful campus
• find out about our vibrant city
• discover what students think about studying at Newcastle
You'll also have the opportunity to speak to academic staff and find out more about the subjects you're interested in.
Find out about how you can visit Newcastle in person and virtually.
Worldwide events
We regularly travel overseas to meet with students interested in studying at Newcastle University. Visit our events calendar to find out when we're visiting your region.
How to apply
Apply through UCAS
To apply for undergraduate study at Newcastle University, you must use the online application system managed by the Universities and Colleges Admissions Service (UCAS). All UK schools and colleges, and a small number of EU and international establishments, are registered with UCAS. You will need:
the UCAS name and institution codes for Newcastle University (NEWC/N21)
the UCAS code for the course you want to apply for
the UCAS 'buzzword' for your school or college
If you are applying independently, or are applying from a school or college which is not registered to manage applications, you will still use the Apply system. You will not need a buzzword.
Apply through UCAS
Apply through an agent
International students often apply to us through an agent. Have a look at our recommended agents and get in touch with them.
Get in touch
By phone
Call us on +44 (0) 191 208 3333 and press option 1. Our opening hours are Monday to Friday 10am until 4pm.
Live chat
Our NCL chatbot might be able to give you an answer straight away. If not, it'll direct you to someone who can help.
You'll find our NCL chatbot in the bottom right of this page.
Online
Keep updated
We regularly send email updates and extra information about the University.
Receive regular updates by email
Social Media