Creative Writing MA, PGCert
Our PGCert and MA in Creative Writing provide a unique opportunity to explore and develop your creative writing skills through practice, revision and discussion.
You are currently viewing course information for entry year:
Overview
Our Creative Writing MA develops your understanding of your own writing and your technical writing skills.
You'll further your awareness of:
writing processes
professional writing
publishing
This PGCert and MA in Creative Writing provide a unique opportunity to explore and develop your creative writing skills. We teach creative writing in three areas:
prose writing, with an emphasis on short fiction, creative non-fiction and the essay
poetry with an emphasis on the practice and study of a variety of poetic traditions and contemporary techniques
scriptwriting, which includes writing for the theatre and screenwriting
Through these areas, we'll introduce you to a wide range of subjects and opportunities with which writers are working professionally.
Members of our Creative Writing staff have received national and international recognition for their writing. You'll work with them to prepare your own writing for submission.
If you complete the Creative Writing PGCert, you can choose to transfer to the second year of our part-time MA.
Important information
We've highlighted important information about your course. Please take note of any deadlines.
Qualifications explained
Find out about the different qualification options for this course.
MA - Master of Arts
An MA is a taught Master's degree. It usually involves the study of social sciences, art and humanities, and business, consulting and management. It typically includes:
subject-specific taught modules
a dissertation or research project of approximately 15,000 – 18,000 words
You'll usually study an MA full-time over 12 months.
A Master of Arts is awarded for the successful completion of 120 credits of taught modules and a 60 credit dissertation or research project.
Find out about different types of postgraduate qualifications.
What you'll learn
Through this Creative Writing Master's you'll be inducted into the habits and inventive strategies of writers in a module dedicated to this process. You'll also begin to concentrate on skills specific to different fields of the writing craft.
You'll go on to test your own writing in one of three workshops dedicated to poetry, prose or script. You'll also take the opportunity to focus on areas of imaginative writing that are specialisms of our staff. Examples of our specialisms include:
dramatic monologue
poetry and translation
life writing
screenwriting
Our Profession of Writing module explores the roles and importance of:
agents
editors
reviewers
professional opportunities for creative writers
Modules
You will study modules on this course. A module is a unit of a course with its own approved aims and outcomes and assessment methods.
Course content changes
Module information is intended to provide an example of what you will study.
Our teaching is informed by research. Course content changes periodically to reflect developments in the discipline, the requirements of external bodies and partners, and student feedback.
Full details of the modules on offer will be published through the Programme Regulations and Specifications ahead of each academic year. This usually happens in May.
Optional modules availability
Some courses have optional modules. Student demand for optional modules may affect availability.
To find out more please see our terms and conditions.
Chat with a Data Science student

Peter
How you'll learn
Delivery and teaching methods
You'll be taught using a range of methods, typically including:
taught sessions
workshops
guided reading
individual consultations
The portfolio will see you finely develop your work through one-to-one supervision. Our small seminar groups and one-to-one supervision mean you'll work closely with your tutors, who are all writing practitioners.
All our classes take place in the early evening.
Assessment methods
Depending on your modules, you'll be assessed through a combination of:
Student support
Your teaching and learning is also supported by Canvas. Canvas is a Virtual Learning Environment. You'll use Canvas to submit your assignments and access your:
module handbooks
course materials
groups
course announcements and notifications
written feedback
Throughout your studies, you'll have access to support from:
peers
academics
personal tutors
our University Student Services Team
student representatives
You'll also be assigned an academic member of staff. They will be your personal tutor throughout your time with us. They can help with academic and personal issues.
Meiko O'Halloran
email: meiko.o'halloran@ncl.ac.uk
Your development
Our PGCert and MA in Creative Writing allow you to advance your creative ability through:
practice
guided reading
discussion
revision
You will further your awareness of:
writing processes
writing craft
professional writing
publishing
Your future
Our Careers Service
Our award-winning Careers Service is one of the largest and best in the country, and we have strong links with employers. We provide an extensive range of opportunities to all students through our ncl+ initiative.
Visit our Careers Service website
Follow in their footsteps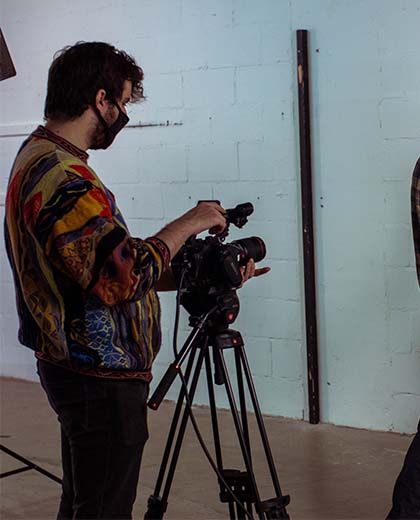 Name:

Oisín

Nationality:

British

Graduated:

2020

Now working as:

Software developer, writer and filmmaker
"I was inspired by the talent and creativity of my peers, and many of them have gone on to be published and recognised. We still support one another, sharing our successes and challenges along the way."
Find out what Oisín liked the most about studying Creative Writing MA at Newcastle University and how this degree helped him in his career as a software developer.
Quality and ranking
All professional accreditations are reviewed regularly by their professional body
Facilities
The School of English Literature, Language and Linguistics is a lively and diverse community with over 700 undergraduates and 200 postgraduates. We're based in the Percy Building. Our purpose-built postgraduate suite includes:
several dedicated computer clusters
meeting rooms
a kitchen and lounge area
Our award-winning Phillip Robinson Library has an extensive audio-visual collection.
The Newcastle Centre for Literary Arts (NCLA) is a world-class centre of excellence in the field of creative writing which contributes to the cultural life of the North East via:
readings
projects
teaching
research
The NCLA offers you the opportunity to get involved in our writing community through readings and events that feature:
poets
scriptwriters
non-fiction writers
novelists
Past speakers include:
Kazuo Ishiguro
Paul Muldoon
Val McDermid
Peter Straughan
Claudia Rankine
David Almond
Fees and funding
Tuition fees for 2024 entry (per year)
Tuition fee increases
If your studies last longer than one year, your tuition fee may increase in line with inflation.
EU, other EEA and Swiss nationals - tuition fee status
Depending on your residency history, if you're a student from the EU, other EEA or a Swiss national, with settled or pre-settled status under the EU Settlement Scheme, you'll normally pay the 'Home' tuition fee rate and may be eligible for Student Finance England support.
EU students without settled or pre-settled status will normally be charged fees at the 'International' rate and will not be eligible for Student Finance England support.
If you are unsure of your fee status, check out the latest guidance here.
Scholarships
We support our EU and international students by providing a generous range of Vice-Chancellor's automatic and merit-based scholarships. See our searchable postgraduate funding page for more information.
What you're paying for
Tuition fees include the costs of:
matriculation
registration
tuition (or supervision)
library access
examination
re-examination
graduation
Find out more about:
Deposit
If you are an international student or a student from the EU, EEA or Switzerland and you need a visa to study in the UK, you may have to pay a deposit.
You can check this in the How to apply section.
Funding deadlines
If you're applying for funding, always check the funding application deadline. This deadline may be earlier than the application deadline for your course.
For some funding schemes, you need to have received an offer of a place on a course before you can apply for the funding.
Search for funding
Find funding available for your course
Entry requirements
The entrance requirements below apply to 2024 entry.
Qualifications from outside the UK
English Language requirements
Admissions policy
This policy applies to all undergraduate and postgraduate admissions at Newcastle University. It is intended to provide information about our admissions policies and procedures to applicants and potential applicants, to their advisors and family members, and to staff of the University.
Download our admissions policy (PDF: 201KB)
Other policies related to admissions
Credit transfer and Recognition of Prior Learning
Recognition of Prior Learning (RPL) can allow you to convert existing relevant university-level knowledge, skills and experience into credits towards a qualification. Find out more about the RPL policy which may apply to this course
How to apply
Using the application portal
The application portal has instructions to guide you through your application. It will tell you what documents you need and how to upload them.
You can choose to start your application, save your details and come back to complete it later.
If you're ready, you can select Apply Online and you'll be taken directly to the application portal.
Alternatively you can find out more about applying on our applications and offers pages.
Apply Online
Open days and events
You'll have a number of opportunities to meet us throughout the year including:
campus tours
on-campus open days
virtual open days
webinars
Find out about how you can visit Newcastle in person and virtually
Overseas events
We regularly travel overseas to meet with students interested in studying at Newcastle University.
Get in touch
Questions about this course?
If you have specific questions about this course you can contact:
Melanie Birch
Events, Marketing and Postgraduate Administrator
School of English Literature, Language and Linguistics
Telephone: +44 (0) 191 208 7619
Email: pg.english@ncl.ac.uk
Online
For more general enquiries you could also complete our online enquiry form.
Live chat
Our Ncl chatbot might be able to give you an answer straight away. If not, it'll direct you to someone who can help.
You'll find our Ncl chatbot in the bottom right of this page.
Keep updated
We regularly send email updates and extra information about the University.
Receive regular updates by email
Chat to a student
Chat online with current students with our Unibuddy platform.